To put a smile on the faces of their users, 9mobile has once more unveiled something massive and impressive. Users of 9mobile can now earn significant prizes by just recharging their existing line or getting a new sim. By doing so, you can welcome new users and express your gratitude to existing subscribers.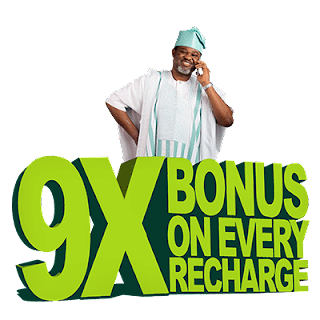 Users of 9mobile's new promotion receive a 900% bonus offer on recharges of N200 and higher. A recently released promotion offers subscribers nine times the bonus of their recharges.
This implies that if you reload N200, you instantly receive N1800 to make calls to any network. In other words, you are receiving 9 times the worth of what you recharged. If you choose to load N100 instead of recharge, you will still receive 4x bonus airtime. Your bonus grows as you recharge more frequently.
How to Activate the 9mobile 900% Bonus Offer
In order to opt-in if you already have a subscription, just dial 61120#. Simply getting a new 9mobile sim will make new subscribers eligible for this new promotion.
The 900% bonus has been divided into voice and data values; voice call values are 300% and data values are 600%. You can get numerous amounts of data and airtime with just one recharge.
Additionally, it comes with an added value that entitles you to 1GB for N500 and three uninterrupted hours of streaming.
This is an exclusive deal for new 9-mobile SIM users. To enable this extra value, enter 25320#.
Validity of the 9mobile 900% Bonus offer
The recharge bonus is valid for 5 days while 1GB data @500 is valid for 3 days. The 9x offer is open for 90 days.
Share and Enjoy!