Hello Indians! You can now send money to your loved ones using WhatsApp Messenger as easily as possible. 
First, it was WhatsApp Pay Brazil; now the service is extended to India starting November 6, 2018. Users in India can now transfer money directly through WhatsApp without having to visit a local bank. This information was disclosed by WhatsApp on their Twitter page, 
Starting today, people across India will be able to send money through WhatsApp. This secure payments experience makes transferring money just as easy as sending a message. People can safely send money to a family member or share the cost of goods from a distance without having to exchange cash in person or going to a local bank.
According to WhatsApp, the payment feature uses the Unified Payment Interface in collaboration with the National Payments Corporation of India (NPCI) (UPI). The State Bank of India, ICICI Bank, HDFC Bank, Axis Bank, and Jio Payments Bank are the first five major banks WhatsApp partners with in India to launch this service.
However, one must have a bank account and debit card in India to be able to use this service. Ready for WhatsApp Pay in India?  Kindle updates your app from the Play Store for Android users or the Apple Store for iOS users.
How to Send Money on WhatsApp 
Just as if you want to send a message, file, or document, click on the attachment icon at the bottom right corner and select payment as seen below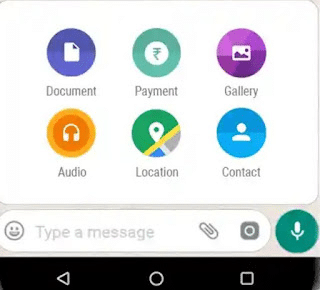 follow the screen prompt directive to complete your transaction