9mobile is back again with another great offer to its customers. This time around is free WhatsApp access to all their customers both on a prepaid or postpaid plan.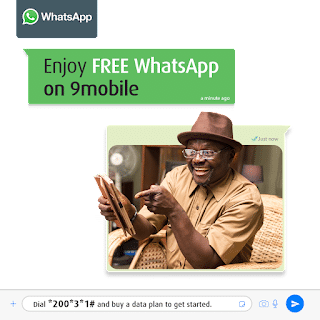 9mobile has been unveiling a lot of good offers since the acquisition of Etisalat licence such as the Magic Hour Promo and Free data offers to those with Samsung J6 series
The 9mobile free WhatsApp access grants Nigerians the opportunity to keep tight the relationship with family and friends without worries about the data it may consume.
The free WhatsApp offer on the 9mobile network enables users to send text, images, video, and other multimedia content sharing, excluding voice calls, video calls, and status updates.
How to Qualify and Get For 9mobile Free WhatsApp
To qualify for this WhatsApp offer,  customers need to purchase a data bundle of their choice using the code *200*3*1# after which they will be able to use their data plans for other purposes while enjoying WhatsApp chat free of charge. this means that to get the free WhatsApp on 9mobile, dial the code, and activate a data plan you will be rewarded with free access to WhatsApp chat.
As stated by the Vice President, of Marketing, 9mobile, Adebisi Idowu who said that "WhatsApp offer is certainly a novel one as it allows our customers to put their data to other uses while they enjoy chatting and bonding with friends and loved ones on WhatsApp for free.
The offer also empowers customers to promote their businesses using WhatsApp as data that would have been used up on WhatsApp can now be used for other things with the free WhatsApp offer by 9mobile. This gives customers more value for their money. By doing this, we are fulfilling yet another promise to enable our customers to do more without hassles."
Enjoy and expect more offers from 9mobile!!
For the latest tech updates and discussions, kindly join our Telegram Group and Telegram Channel. For WhatsApp group Click Here
Use the comment box to share your experience with us and or your complaints