In the current technological era, mobile phones have essentially somehow replaced human companions to an extent. The primary function of a mobile phone has evolved far beyond making calls, and today practically all of our daily activities require the usage of mobile phones, specifically smartphones.
What happened when your priceless smartphone was lost? Is this it? Does that imply that you have lost everything, including the phone itself, the films, images, credentials, and documents?
The answer is a big NO.

They are several ways for you to get your phone back at a very good chance depending on the extent of the method you used to track it.
In this post, we are going to discuss three methods you can use to track your smartphone depending on its operating system.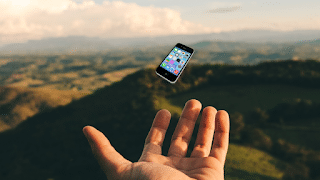 1. Google, Apple, and Microsoft utilities.
Google developed the Find My Device tool for Android smartphones (and tablets, for that matter) at google.com/android/find. This application can assist you in tracking the phone if it is online and the thief has not yet signed out of your account. You can also remotely delete all of the data from your phone or set off an alarm. However, you must act quickly before the offender has a chance to log out of your account.
For iOS devices
Apple has also given those who lost their phones some thought. They use a program called "Find My iPhone." With it, you may remotely erase all the data, lock your phone, find out where it is, and track it. Any of these steps will be effective as soon as your phone is turned back on, even if it has been off.
To get a reminder when your phone is turned back on, you may also check the box next to "Notify Me When Found." It will only function if your iCloud account is still active on your phone, much like with Android devices.
In the case of Microsoft Windows phones
Microsoft has a similar system in place to find your lost phone. It has the same requirements and functions as the Android and iOS ones do. Follow this link (account.microsoft.com/devices) to track, lock and/or erase your Windows phone.
2. IMEI phone number tracker
Every phone has an individual number called an IMEI, or International Mobile Equipment Identity. It makes it possible to distinguish between two visually similar phones. You'll need to know this number in order to give the police your phone if it was stolen.
The IMEI number of a smartphone can typically be found on the phone (in the battery compartment), on the phone, and "on the phone" (by dialing *#06#). This procedure won't work for you if you don't properly record the IMEI number of your phone beforehand. even though this approach is without a doubt the finest.

tracking a device using an IMEI number usually involves the use of sophisticated hardware which is mostly used by the police or any other law enforcement agencies.
3. Tracking and Monitoring Apps
They are a lot of handy apps that can actually help in recovering missing or stolen phones. but they can only be helpful if pre-installed before the phone gets missing.
These monitoring and tracking apps offer a variety of features, including the ability to remotely ring out your smartphone even if it is on silent mode and obtain an exact map and satellite image of its current and past locations. The ring-out feature is particularly helpful if you unexpectedly lose your phone in a house or a crowded area where you are certain that the phone is present. With the help of monitoring apps, you can remotely lock your phone with a new security code or password and show a message (or contact details) for recovery.
Some smartphones like Samsung devices have pre-installed this feature in it. You can download any of the Apps below if your phone doesn't have such features.
Prey Anti Theft
Android Lost App
LocateMyDroid
Lockout mobile security