The NECO result 2023 is out on Tuesday, October 10, 2023, and many candidates are willing to see their results and know their fate.
If you want to check for yourself, your siblings, or any other candidate, this simple guide will help you successfully check your NECO result using your phone or through the online portal.
It's been 58 days since the Neco 2023 examination was completed. According to the Registrar of the National Examination Council, NECO, Prof. Dantani Wushishi, the 2023 result summary shows that 61.60 percent scored five credits, including English and Mathematics
To check your NECO result, make sure you have the following information ready:
Requirements
Your examination number
Result Checker PIN or token
You can purchase a result checker PIN or token directly by visiting the NECO result portal at https://results.neco.gov.ng/. All you have to do is create an account, log in, and purchase a token.
Alternatively, you can get a NECO result checker PIN from a trusted third party online or around you such as an Internet cafe. Once you have your exam number and PIN ready, you can proceed to check your result
How to check NECO result 2023
You can check your NECO result online using your smartphone, tablet, or computer if you have internet access otherwise you will have to check it via SMS using your phone. Here is how it works:
Follow these steps to check your neco result online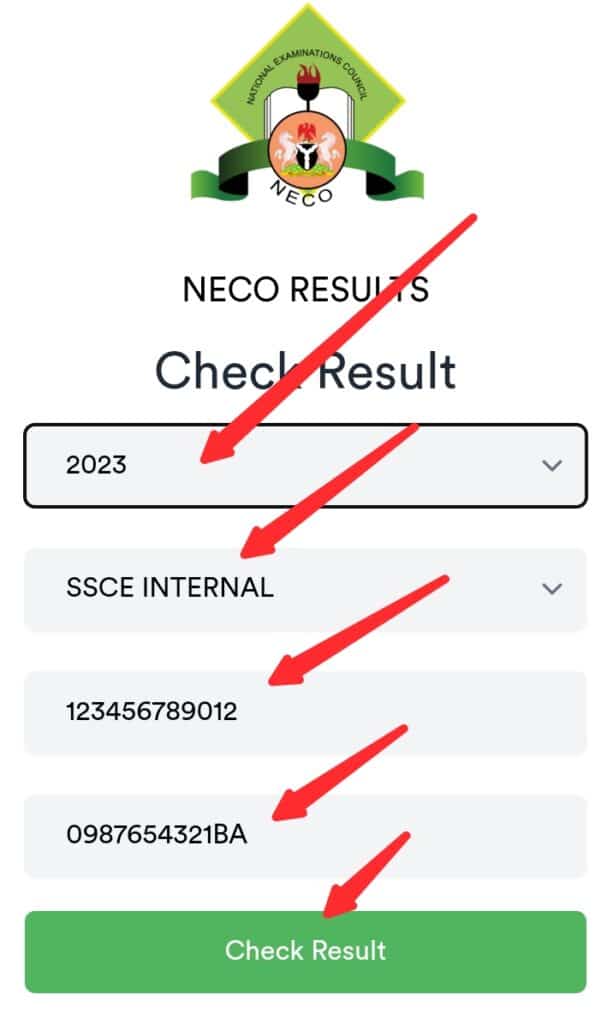 Click https://results.neco.gov.ng/ to open NECO result-checking portal
Choose exam year: select 2023
Select Exam Type: choose either SSCE Internal, SSCE External, BECE, NCEE, or GIFTED that accurately describes the candidate
Enter Token: A 12-digit PIN you purchased for checking results.
Enter your registration number: the same as the examination number. Example 0987654321BA
Click Check Result
Lastly, the candidate's result will be displayed on the screen.
You can print or save it as a PDF file for later printing.
The above steps can be carried out on smartphones, tablets, and computers.
Follow these guide to check your neco result with your phone when no internet access
Send a text message from the candidate's phone number to 32327 using this format: NECO*ExamNo*PIN*ExamYear
For example, if your exam year is 2023, your Exam No is 0987654321BA, and your PIN is 123456789012,
Type this text message NECO*0987654321BA*123456789012*2023 and send it to 32327 to check your NECO Result 2023.
Note: The SMS method may not work in some cases, it is better to use the result-checking portal.
FAQ
How much is the NECO result checker PIN
Officially from the NECO website, it costs N625 for 1 token excluding service and transaction fees. from third-party resellers, it will cost more.
Can I check NECO result without a token or scratch card PIN
No, You have to use a token or PIN to check NECO results
I can't access the NECO result-checking portal
Yes, this is a common issue when results are first released due to traffic congestion the portal is receiving, you should continue to try again especially during less traffic hours like at night and early morning to check your result