National Identification Number NIN is a piece of important Identity information to every Nigerian, sometimes when it comes to banking, you may wish to delete this information from the banking institution especially when you don't want to use banking services again. This is why I write this article, you will learn how to remove your NIN from Opay.
Opay is one of the popular financial service institutions that brought banking services to the lowest level in Nigeria whereby customers can perform transactions using their mobile phone number. If you don't want to use their services due to some reasons, you may wish to have your information such as NIN or BVN removed from their database
One of the main reasons why Opay needs your NIN is to comply with the directives of the Central Bank of Nigeria (CBN) and the Nigerian Communication Commission (NCC) on the use of NIN as a means of verifying customers' identities.
By collecting your NIN, OPay can verify that you are who you claim to be and comply with the Know Your Customer (KYC) requirements of the CBN. This helps to prevent fraud and money laundering and protects both you and OPay from any unauthorized transactions or activities on your account.
Why do you want to remove your NIN?
The terms of use of Opay ensure to protection of your personal data while using its service without any compromise. This means your data is safe always.
Be mindful that Removing your NIN information from Opay will degrade your account. You will no longer be able to enjoy OPay's full service. There will be very little limit to your allowable daily transactions and access to other services like loans.
However, Removing NIN from Opay is not as direct as possible because sometimes you cannot find any particular button, tab, or code on either their website or app that you can use to remove your NIN. Buy there's a way out to do this.
How to remove NIN from Opay
The only way to remove your NIN from your Opay account is to delete it through an app or contact their support center and submit your request. You can take this step even without your phone number or email address.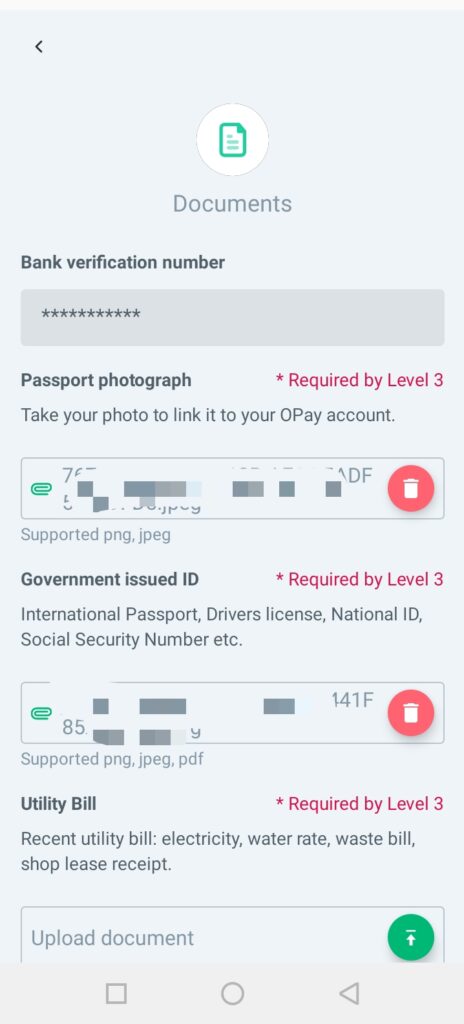 To remove your NIN through opay app, follow these steps:
Open the Opay app on your device and log in to your account.
Click on the "Me" icon on the bottom right-hand corner of the screen.
Tap on your "Profile" icon and find the "Edit Profile" button or "Documents"
Select the "National ID" option.
Click on the "Remove" button next to your NIN.
Confirm that you want to remove your NIN from your Opay account.
If the above steps didn't work for you, contact customer support to remove your NIN.
here is the customer care channel to contact and remove your NIN from Opay:
Call Opay customer care numbers: 0700 888328, 01 888328, 0700 888329, and ask the agent to remove your BVN.
Chat Opay on WhatsApp via this number: +234 916 599 8936
Message Opay on their Facebook page: https://www.facebook.com/Nigeria.OPay
Message Opay on Twitter X page: @Opay_NG
You can also Email them via: customerservice@opay-inc.com
On Instagram, message opay: https://instagram.com/opay.ng
Conclusion
At this point you should be able to get your NIN removed from opay any time you wish as long your account is in good state.
We have more information for you to read about in the list below: