DENT – Send mobile data top-ups that give you free data.
Send mobile data top-up and earn free data with the DENT App. Get mobile data recharge for smartphones worldwide. The DENT App allows you to top-up someone else's or your own phone, no matter where in the world you are.
Using the DENT App you can recharge your own phone or a loved-ones from anywhere in the world. Simply choose a contact, select a top-up data amount and let's go. It really is that easy.
Unlike before which was 150MB for sign up, Now the DENT app gives you 500MB worth of data on any network (Mtn, Airtel, 9mobile, Zain, Glo, etc) by just installing the app and signing up. Actually, on the first sign-up, they will welcome you with 185 Dents, which you can withdraw as data worth 500MB. Depending on the chosen network. It's a trusted app with over 100 thousand downloads as of the time of writing this article.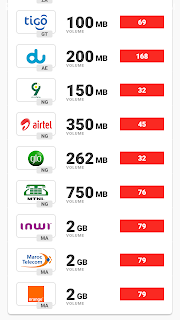 The DENT app is available for Android 5.0 KitKat, 6.0 Marshmallow, 7.0 Nougat, 8.0 Oreo, and 9.0 latest version. iPhone users can also download the app, it requires iOS 11.0 or later. It works for users in Nigeria, Mexico, the United States, and Brazil. The developers promised to add more countries to the list before the end of the year 2018.
You can redeem your Dents as data. You can buy Dents with PayPal or refer friends to earn more Dents. The more Dents you have, the more data you will redeem.
How to Get Free Data Using DENT App
You can use our referral link below to download the Dent app for free and start enjoying free dents!