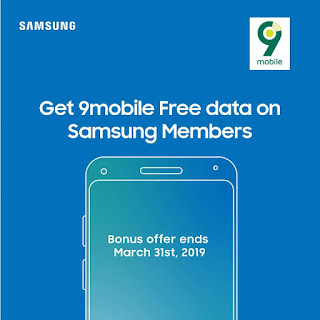 Here comes to you an offer from 9mobile[ formally Etisalat] as it partners with Samsung Mobile to give its users a free data Bonus.
Recently we disclose to you how to get Free 4GB on MTN and Airtel upon upgrading to 4G LTE.
This time around 9mobile offers free 1.5GB/2GB and a data Bonus via the Samsung member app. Looks like a season of offers..!!
This offer is only for 9mobile users with Samsung android phones, so if you have a 9mobile sim but are not a Samsung user, sorry this offer is not for you but read on to get informed.
 Samsung users can get 1.5GB,2GB of free data instantly, and a 100% bonus on all data bought for 6 months + an additional 50% data bonus in the next 6 months.
This means that after an instant free 1.5/2GB,  assuming you buy 1.5GB data you will be given an extra 1.5GB for free.
Unfortunately, this offer is for selected Samsung devices only.
Eligible Samsung Devices
Samsung Galaxy J4+
Samsung Galaxy J6+
Samsung Galaxy A7 2018
Samsung Galaxy A9 2018
This was stated by Samsung Mobile Nigeria on their social media pages.
They also said that the offer differs amongst the 4 devices, For Samsung Galaxy J6+ and J4+ users, they will be given 1.5GB free and 100% of data would be given to them when they buy data for the first 6 months then 50% data bonus on all data purchased for the next 6 months.
 While for Galaxy A7 and A9 users are to get instant free 2GB and subsequently be given a 100% data bonus on all data purchased for 6 months and another 50% data Bonus for the next 6 months.
Meaning that there is a whopping 500MB difference between galaxy J4+/J6+ and A7/A8 respectively.
How To Get 9mobile Free 1.5gb/2GB Data Bonus On Samsung
Download the Samsung Member App HERE
Then Register/login with your 9mobile sim details and that's all.
  Note that this bonus offer is valid till the 31st of March 2019, after that only registered users would be eligible for the 100% bonus.
related