JumiaPay formerly JumiaOne App is one of the smartest, most convenient & secure ways to do airtime top-ups, pay your utility bills & much more, all at the BEST price!
With JumiaPay you enjoy:
• Guaranteed bonus on each mobile recharge
• Savings on your bills payments
• Secure payment via bank account, debit, or credit card: 100% secured & certified
Many have tried to know how to make money with Jumia One App, but the method is simply explained here.
JumiaPay App recently launches its new referral program, the referral service lets users earn N500 bonus for installing and transacting with the app.
But now the service has improved, one can earn 1000 Naira airtime for each person they refer to download the JumiaPay [Jumia One] app and make transactions. Bonus can be spent as free airtime or cash back. Note that the referral bonus is not always 1000 naira.
All you need to do is to start sharing your personalized referral code and reap the rewards by earning ₦1000 for every person that signs up and recharges, provided the terms are complied with.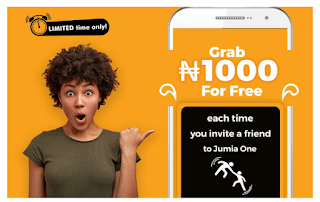 Anyone who uses your referral link will also get 20% cash back on their first transaction. While you get N1000 or N500 Bonus after the referee performed a transaction for as low as purchasing N50 airtime.
How To Earn N500/N1000 Worth (wallet balance) on Jumia One App
Step One:
CLICK HERE TO DOWNLOAD JUMIAPay [Jumia ONE] APP 👈
Download Jumia One App From The Link Above
Step Two:
Register Simply By Inputting Your Number/Email Address Into The Space Required For Registration On The Application After Downloading & Wait For A Confirmation OTP Message.
Final Step:
After Registering, Activate Your Account With A Minimum Of #50 By Buying a Recharge Card Through The Application, Then Refer Friends With Your Referral Link In The Second Page. For Every Friend That Uses Your Referral Link & Activates Their Account With A Minimum Of #50 Naira, You Get #1000 Naira In Your Wallet.
note that the Bonus cashback amount is never withdrawable. It can only be used to make new purchases on Jumia One or any Jumia marketplace product using Jumia Pay as a payment method.
Also, keep in mind that the jumiapay app installing bonus is not fixed, sometimes it can be N500 instead. Which can be gotten after a successful transaction by the person you refer. 
How To Refer a Friend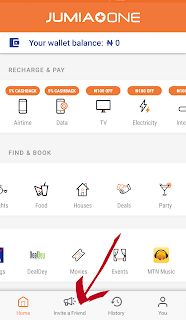 On the Jumia One App menu,  click on invite a friend, then send it to your friend or copy the link.  Once the friend registers via your link and buys at least 50 Naira airtime, you get N1000
And He or she stands a chance to get 20% cash back on their transaction.
How to Get 20% Cash Back on Jumia One App
This 20 percent cash back is only available on your first transaction on JUMIApay App,  all you need to do to get the 20% off is to use this voucher code WELCOME20 
Once the App asks you "Do you have a voucher code?? " select yes and insert welcome20 as the code, 20% will automatically be off. 
A transaction with JumiaPay App is very secure, in fact in order to complete a transaction, you must insert your phone security code, pattern, or fingerprint to varify that you are truly the one initializing the transaction. This security cannot be removed by someone.
Below are some of the transactions I have carried out successfully on the JumiaPay App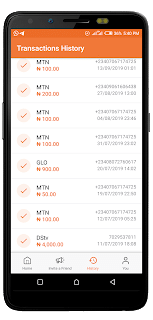 Download Jumia One App Here and enjoy amazing services
https://one.jumia.com.ng/referrals/?invitedby=5df5ba86-1bd6-4c42-a4a7-99e776f92b12