If you have been abroad or you have someone there, you might have known that it actually cost high in order to connect to them since it is an international connection unless you have some special offers either at your local network or your network abroad that cut off some price for voice and data connection for you.
For the purpose of Hajj [Pilgrimage], Glo has introduced a new package called the Hajj Offer targeting Muslim Pilgrims in Saudi Arabia it easily connects to their loved ones at home [ Nigeria] with ease via Roaming offers on data and voice calls.
This means that you can use your Glo line in Saudi Arabia just as if you are in Nigeria. And the offer can help you share your Hajj experience with your family and friends in real-time with ease. This sometimes you can suggest to fellow Pilgrims.
In this post, you are going to learn about the Hajj Special Offer and How to set it up
I made mention of roaming. I hope you know what this means. because the Glo Hajj offer is a roaming offer.
Well, if you don't know what roaming is, let me briefly carry you along.
What Roaming
In telecommunication, Roaming means being out of your Carriers network operation zone and connects to other available networks with your primary network SIM.
When You go to Saudi Arabia with your Glo line, it should be out of coverage unless you want to roam.
Data Roaming means a situation whereby your device will be connected to another network due to a lack of coverage of your local network in that location. This is more than just a lack of network within some areas in your country but precisely the absence of your network carrier's service abroad. For example, if you travel to Saudi Arabia and you are able to make use of your Glo line to connect to other available network coverage to make calls and browse the internet, that means you are on a roaming network service. Because Glo network has no network coverage there.
Sometimes people use it unknowingly and unaware ending up with a big bill. That's why by default, the Data Roaming service is always off on smartphones because leaving it ON can cause unwanted automatic charges if you roam around.
In this case of the Glo Hajj offer, your Phone has to be connected to a particular network in Saudi Arabia in other to Enjoy the offer.
Glo Hajj Special Offer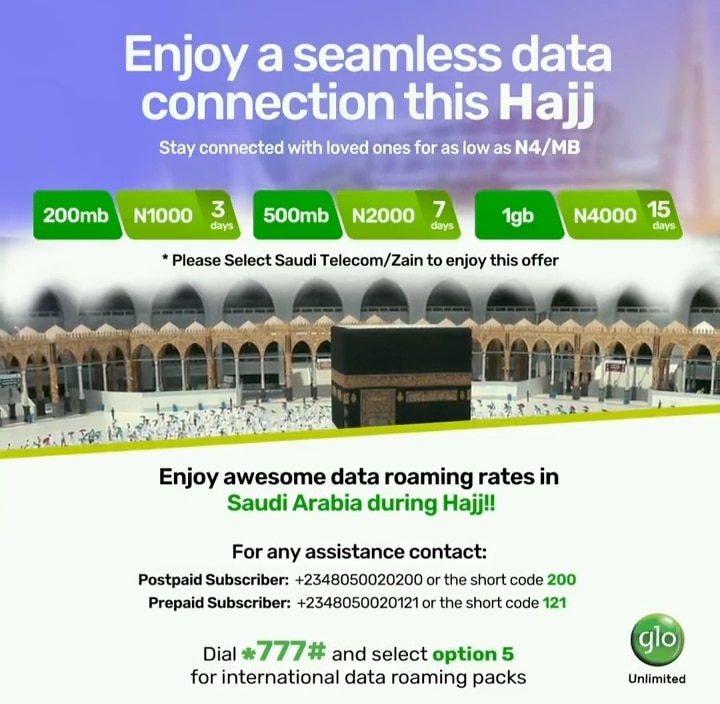 This offer is designed to give pilgrims discounted rate of roaming data in other to easily communicate with their friends and family at Home
The offer has the following options
Data rate for as low as 1000 Naira
Voice call rate for as low as N20/min
Glo Hajj Offer Code and Subscription
To subscribe to any of the Hajj offers, simply dial the code *777# and select option 5 for the international roaming packs, select Hajj Data offer and choose from the offer available
200MB for 1000 Naira – 3 days
500MB for 2000 Naira – 7 days
1GB for 4000 Naira – 15 days
2GB for 10000 Naira – 30 days
Note: When you are in Saudi Arabia and like to enjoy this offer, you must be connected to Saudi Telecom/Zain.
How to connect to Saudi Telecom with Your Glo Line
First of all, toggle ON your data roaming service on your smartphone. You can do that from your phone's mobile network settings.
Manual scan and select the Saudi Telecom/ Zain network. To do this, simply go to your phone settings >> mobile network settings >> tab on Glo and select Choose Network and manually scan and search for Saudi Telecom.
Once you have activated your data roaming service and connected to Saudi Telecom Network and subscribed to one of the Glo Hajj offers, you can now hook up with your friends and family via the internet. You can chat and calls them on WhatsApp or Facebook to save cost.
How to check Glo Hajj Offer Balance
Dial *122*7# to check your Hajj offer balance
Hajj Offer Pay as You Go Rates
For Voice,
Incoming call N20/min
Calls back home N50/min
Calls within KSA N25/min
Outgoing SMS N10 flat
Incoming SMS Free
Data N0.06/KB
For Data,
1,000 Naira 200MB 30 days
2,000 Naira 500MB 30 days
5,000 Naira 1GB 30 days
10,000 Naira 2GB 30 days
Share this with your fellow Pilgrims!