Here is another App that rewards subscribers with free 1GB every month for three months on the MTN network to browse, stream, or download. Today we are going to share with you how to get free MTN 1GB data monthly using the Afrihost App.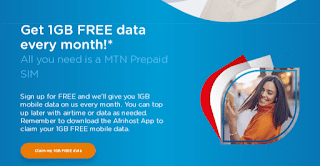 But before we proceed any further, kindly note that the Afrihost service currently works in a specific country.
This Promotion is only available for MTN South Africa because Afrihost runs on MTN SA Network.
The Afrihost ( Air Mobile) App is an App that gives you access to ClientZone's powerful features from the convenience of your phone. Managing your products, topping up data, making payments, checking the network status, and more from anywhere.
How To Get 1GB Free MTN Data Via Afrihost
All you need is your MTN prepaid SIM Card.
Download Afrihost App Here
Then sign up using your mobile number
Boom! You will be given 1GB of data valid for 1 month and continuously Until 3 months
Note
This promotion is valid for any new signups or package changes. You will get 1GB free mobile data every month for the first 3 months from signup. You have to log into the Afrihost App every month to claim your free data – if you fail to do so, your free data will be forfeited for that month.
You can also top up your Afrihost ( Air Mobile) with airtime and enjoy cheap data plans for as low as R69 per GB!
If you like this post, share it
Sharing is Caring!