The EC Tunnel VPN apk app works with the Vodacom network and is the latest free browsing cheat for all South Africans who use the Vodacom network only.
I hope this unlimited free browsing cheat will assist you in bypassing boredom time by surfing online, and it's not like HTTP injector VPN, where you have to look for the HTTP injector config file for MTN every week.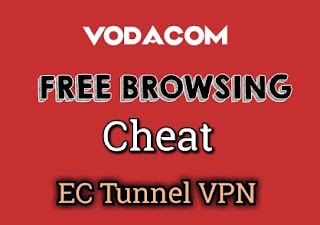 I hope you know free browsing cheat is kind of difficult since early the year 2020 and why most of the network security was improved and this makes free browsing cheat to be difficult to see.
After lots of research, we discovered a new free browsing cheat for the Vodacom network only and this is available for South African people.
Vodacom free browsing cheat work with the help of EC tunnel VPN android app.
Note, EC tunnel VPN is a new VPN that is used only for free browsing cheat.
 This EC tunnel app work for some network in Nigeria but it's free because you need to buy social data plan on Airtel or 9mobile before you can have access to tweak the network for free browsing cheat.
 Hope you are living in South Africa and you are reading this awesome post.
If I'm right then let's rock on this new free browsing cheat.
I'm going to explain step by step how to set up this EC tunnel VPN browsing cheat app on your android phone.
Some people guess maybe free browsing cheats are difficult to configure, but the case is not applicable to EC tunnel VPN app, everything on this app is straightforward to do. It's just a click after installing the app on your android phone.
Before we talk about how to set up this working free browsing cheat, let's talk about the requirement you need before you proceed.
Also Read: Airtel free browsing cheat via HTTP injector App
Vodacom free browsing cheat requirements with EC tunnel VPN
Get a working android phone with a good internet connection, if possible let it be on a 4G network and make sure it is running on the latest Android version or a minimum of version 4.4
Android-powered with 1GB RAM
Working Vodacom SIM card for the free browsing cheat
Download EC tunnel VPN from play store or via this link
Ensure you don't have any active internet plan on your Vodacom SIM card.
How to use EC tunnel VPN for free browsing cheat with Vodacom network
Get your EC tunnel VPN app downloaded from the above link provided or on Play Store and make the installation happen.
After installation of the EC tunnel app, proceed by launching the app and navigating to server on EC tunnel app.
Select any server you prefer.
After picking your server, navigate to the tweak section and pick any of the tweak config files.
After picking your tweak config file, just hit on connect button and wait for a few minutes for the app to connect successfully.
Once you see the connected message, then you are ready to start using unlimited free browsing cheat settings.
For Nigeria users that have an interest in free browsing cheat and download the latest tweakware VPN app from their website and enjoy free internet browsing but it's Cape at 50MB daily just like HTTP injector config file for MTN. and Airtel http injector settings
If you like this post, do share. have any questions? kindly comment below 
FOR LATEST POST LIKE THIS and FBT:- JOIN OUR TELEGRAM GROUP HERE and CHANNELor WhatsApp Group HERE