Are you looking for free data to get on the internet? Or you are looking for a free data code? Like we do, in this post, You will learn how to get 3.5GB FREE DATA on your Airtel line.
Airtel KE is one one the leading telecommunication provider in Kenya. From time to time the company finds a way to entice its customers with free values like airtime and data bonus as a way of appreciating their commitment to using the network.
This time around is the data bonus. Which comes as an encouragement to carry out the mandatory SIM registration in Kenya. I will show you how to get Airtel free data of 3.5GB.
Let me tell you how to get this done
About the 3.5GB Airtel Free DATA
The Airtel 3.5GB free data is a reward bonus to Airtel subscribers for updating their SIM registration information on the Airtel database. The communication authority in Kenya recently mandate all users to update their SIM registration with their respective mobile network carriers to avoid disconnection. Airtel attached this free data to encourage customers in carrying out the task. However, customers can be disconnected if SIM information is not verified as declared by the Authority of Telecommunication in Kenya.
Face off, this free 3.5gb data depends on SIM information update.
How to Get the 3.5GB Airtel Free Data
It's simple. and it's all about updating your SIM registration information. you can do that through the online portal by yourself. Or you go to the Airtel store near you.

To self-update SIM info by yourself and get free data of 3.5GB,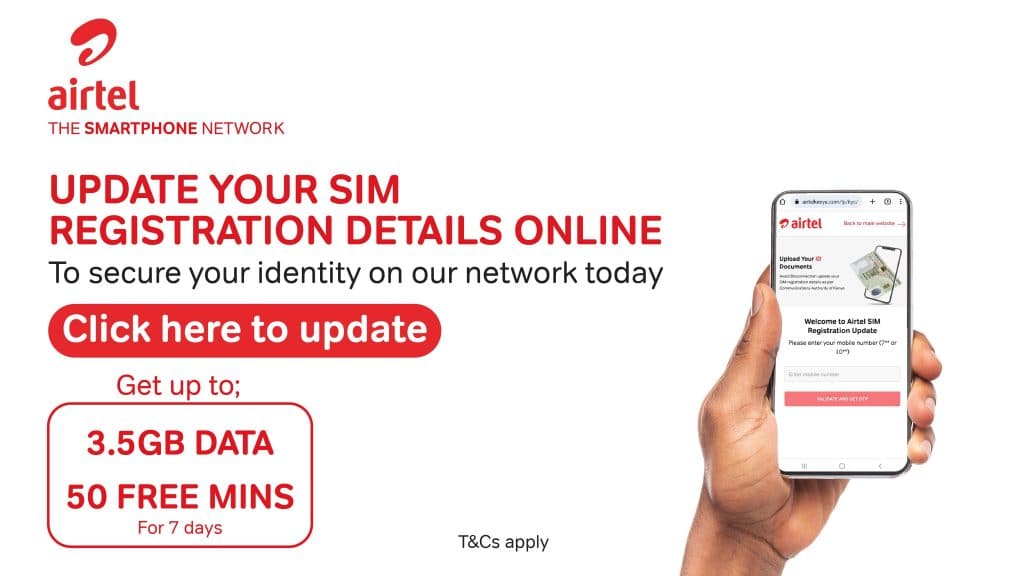 Dial *106# to check your SIM status
Go to https://airtelkenya.com/lp/kyc/ and enter your mobile number, valid and get an OTP
Follow the on screen prompt until successful
Alternatively you can visit the Airtel shop near you to physically update your SIM status and get your data bonus of 3.5GB. Click this link https://www.airtelkenya.com/store_finder/airtel_shop to find Airtel shop near you.
Free data bonus valid for 7 days
Data is life! Enjoy
More for you 👇