They are a lot of ways to download WhatsApp status videos or Facebook videos using third-party means but most of them are tedious or uneasy to do. This post will guide you on how to save and download WhatsApp status updates or Facebook videos easily using the famous Xender App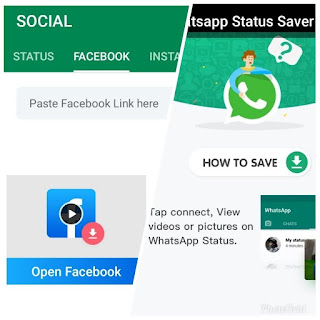 Xender is one of the best sharing tools you can use to send or receive music, videos, photos, Apps, pdf, or any other file from one Android device to another at a very high speed without any restriction.
the new status-saving features of Xender can help you download videos from Facebook or WhatsApp without stress
If you come across any interesting videos on WhatsApp status or Facebook, no need of begging, just use your Xender to save them easily.
Note that not all Android phones support this feature but you can give it a try to see if your phone supports it.
How to Save/Download Facebook Video Using Xender
Step 1
Make sure your xender is up to date otherwise update it from google play
Step 2
Launch your Xender App and click on the social tab located at the bottom
Step 3
Click on the Facebook tab at the top bar
Step 4
Click on Open Facebook, this will automatically launch your Facebook app or browser, log in to Facebook then locate the video and lick on it then go back to Xender to download it.
Otherwise from Facebook just click the 3 dots beside any video to copy its link then come back to Xender and paste the link under the space provide for Facebook and click download to save your video.
Related Post: How to Enable WhatsApp Dark Mode on Your Smartphone
How to Save/Download WhatsApp Status Using Xender
The procedure is all the same, after launching your Xender just click Social>> Status >> Connect.
It will launch your WhatsApp automatically, just view or watch all the videos or photos you want to save then go back to Xender, under status you will see them all and save them.
Enjoy and Share!