Globacom Nigeria has now added a new special data package which is the social bundle (WTF Bundle )to keep subscribers active on social platforms at a relatively low cost. this post explains what the Glo wtf bundle is all about and how to activate and get the WTF 500MB for 100 Naira, 200MB for 50 Naira, and 100MB for N25 respectively. As a bonus, You will also learn how to power all Apps with this Data bundle.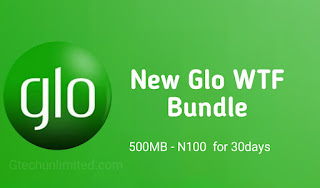 About Glo WTF Bundle
The Glo WTF is a special data plan created to access the three social Apps ( Whatsapp, Twitter, and Facebook) at a relatively low cost. The package was designed for those who like spending more time on social media sites or App to spend less on data with a huge benefit
Just like the Airtel social bundle, all Glo customers can as well enjoy the special package which is named as WTF bundle. This Glo WTF bundle is very similar to the Airtel WhatsApp and Facebook plan, on Glo WTF you can activate a data plan to the maximum of 500MB for N100 valid for 30 days.
The plan includes:
N100 for 500MB
N50 for 200MB and
N25 for 100MB all valid for 30 days
How to Subscribe to Glo WTF Bundles 
To activate Glo WTF social bundle, simply Dial the USSD code *777# and Select Data >> Buy Data Plan >> Proceed (one-off) >> Social Bundles >> WTF ( Whatsapp, Twitter, Facebook) and Choose from the available plans: 500MB for 100 Naira, 200MB for 50 Naira, 100MB for 20 Naira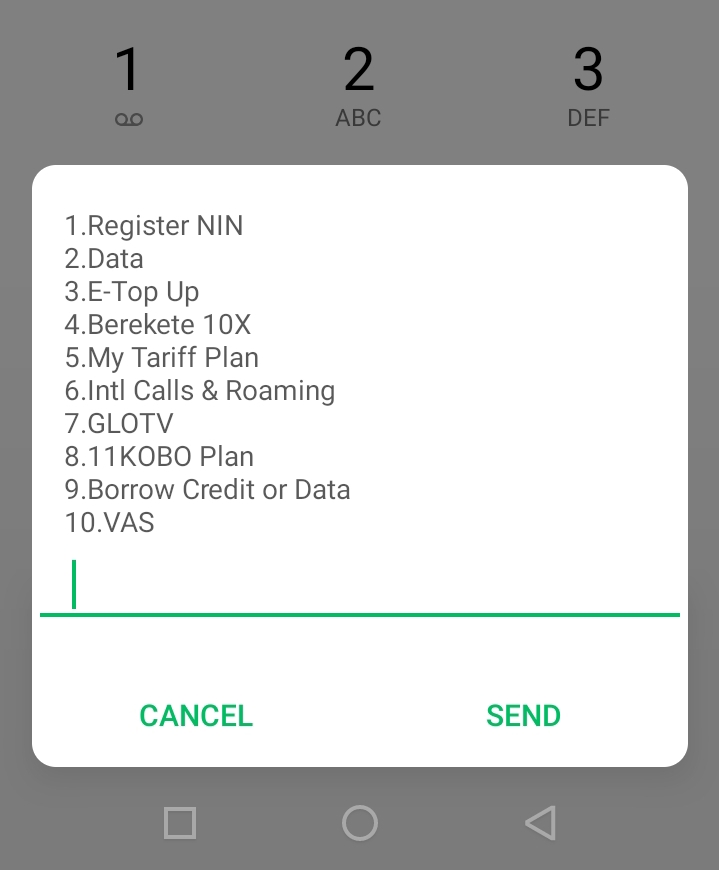 The exact amount will be deducted from your airtime balance and the data will be credited to your line.
Another method to buy the glo wtf bundle is to download the Glo cafe app and buy it from there or go to the gloworld data plan portal and select the WTF Bundle (WhatsApp, Twitter & Facebook).
kindly note that The Glo New social bundle is restricted to accessing WhatsApp Facebook and Twitter, however, with the help of the Psiphon or HTTP injector config file, it can be used to power across all apps.
Validity & Balance Check
The duration of each of the Glo WTF plan is 30 days for the 500MB plan, 7 days for the 200MB plan, and 24 hours for the 100MB plan. however, subscribers can activate the plan multiple times to accumulate the data.
to check your wtf balance, dial *127*0#.
FAQs on Glo WTF Plan
What is the Glo WTF social bundle code?
The code is *777#. which is Glo's one code for all services.
How to deactivate Glo wtf plan
to opt-out of any of your WTF plans, send the word 'cancel' to 127.
Glo wtf bundle not working
if your WTF Bundle (WhatsApp, Twitter & Facebook) is not working on any of the apps, do this troubleshooting;
Confirm that you still have an active WTF Plan by dialing *127*0#.
Update your App; Whatsapp, Facebook, or Twitter from Google Play or App Store.
If you are accessing the Glo network behind a VPN app, disconnect it
your wtf bundle should now work otherwise contact Glo Support
how to power all apps with glo wtf plan
to do that, use tunneling VPN app like Psiphon or HTTP Injector App by connecting it to the internet before launching your Whatsapp, Facebook or Twitter App.
conclusion
Have more complaints or questions to ask? let's hear that in the comment box
Enjoy and share.
related