Hello techafresh readers! This post is about the latest 0.0kb free browsing on the 9mobile network. I will explain to you how to configure your Etisalat line for daily 300MB data via the Stark VPN Reloaded and NapsternetV App. Read every line to get all the steps involved.
a 9mobile 0.0kb 300MB daily free browsing is so-called because as a user, you don't need a subscription to any plan or airtime to power it up. This is very similar to our recent post about 100MB MTN daily data and Airtel 30 – 50MB 0.00kb free internet browsing.
Eligibility

For this benefit, All 9mobile customers are eligible for this free net because it has no relation to either your tariff plan or current subscribers. Hense old or new SIM on 3G or 4G is eligible to enjoy the Etisalat 300MB daily free browsing.
Also Read:
How Can I configure my 9mobile for 300 MB Data Daily?
this is the latest 9mobile or Etisalat free browsing cheat for 2021 using either of the following Apps on your Android smartphones, Stark VPN Reloaded or NapsternetV, however, they are other VPN apps that can be used for the 300MB Daily.
How to set 9mobile 300MB Daily Via Stark VPN Reloaded
To use stark VPN Reloaded for Etisalat 300MB, simply download the App using the link below and follow the steps beneath for setting
Download Stark VPN Reloaded here
Launch the App and on the front page click on the drop-down Tweaks menu and select 9mobile 300MB Daily 2021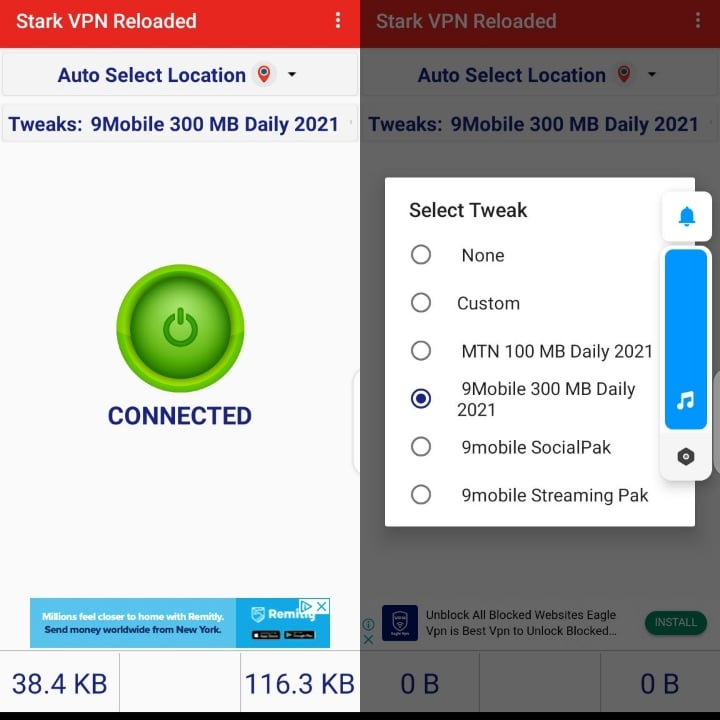 Now click on the connection button in the middle and wait for a few seconds until you are connected. Minimize the App and enjoy your free 300MB Daily.
The 9mobile 300MB Daily via Stark VPN Reloaded App is most preferred according to users' opinion because of its inbuilt configuration which doesn't require the need external config files like the NapsternetV App. However, NapsternetV can as well be advantageous because it's completely a v2ray client App with lots of custom features such as the trojan horse and holding on to different config files at once.
How to set 9mobile 300 MB Daily on NapsternetV
This is very simple as well. Click the link below to download NapsternetV App and its Config file
Download 9mobile 300MB Daily config file
Now launch the NapsternetV App and click on the plus sign at the top-right corner then click on import npv2 config file. Locate and select the downloaded file and it will be imported automatically.
Touch on the file name to activate then click on the start button at the bottom right corner of the screen then wait for a few seconds until it's connected. Check on the Stats tab to make sure the graph is reading up and down.
That is all. If you have tried this let's hear in the comment box.