If you have never enjoyed the Airtel anniversary offer before, then don't miss it this time! Airtel is rewarding customers with 250MB data + 20 SMS for free. In this article, you will learn how to activate yours now.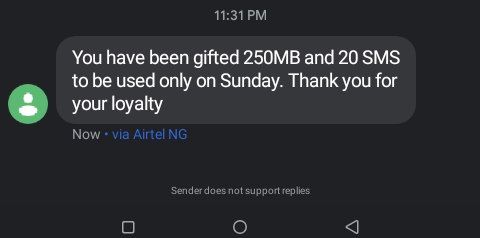 Some weeks back it was Glo and MTN Anniversary where lucky customers received free data. Now it's time for the Airtel Nigeria anniversary offer too, eligible customers will stand a chance to activate the free data and SMS gift.
Don't be too curious! I will show you how to activate the Airtel anniversary gift. You just need to continue reading.
Airtel Anniversary Offer
The Airtel anniversary gift is 250MB + 20 SMS for free. The offer is to appreciate customers, commemorate and celebrate the years of operation in the country. Airtel begins operations in since 2001 and celebrates customers loyalty to their service.
In order to get this 250MB + 20 SMS free reward, it is required of you to dial a particular ussd code. However, only lucky customers could be eligible to activate it.
Importantly, the data can only be used on Sunday, that's 1day. however, it's usable for all internet activities.
How to Activate Airtel Anniversary Gift
Dial *144#
Select option "1" For "Airtel Anniversary Gift"
Reply with 1 to activate
Enjoy 250MB + 20 SMS Free.
Note: Only eligible customers can successfully activate it and there is no known way on how to be eligible.
Now let's hear from you if you are eligible!
Enjoy!
Related