Introducing The Airtel Everyday ON Plans lets you activate a data bundle that is received and consumed in segments. such as the 500MB data daily and 1.5GB per day plan for one month.
Everyday On plans bundle is comparably cheap and useful, especially to those that don't want their data plans to be exhausted before their validity. It is also important if you want to automatically optimize the usage of your data bundle because it wouldn't let you exceed your daily cap.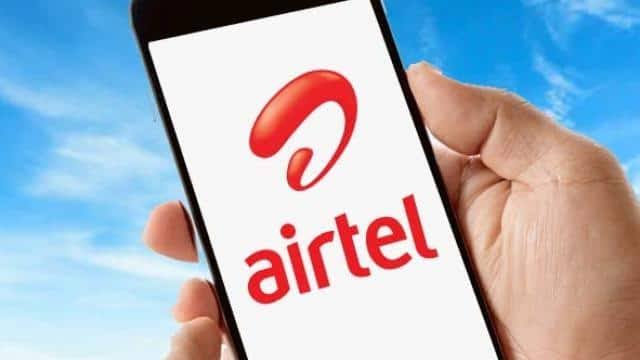 In a nutshell, This post is written to inform and guide you about the "Airtel Everyday ON plans" and how to subscribe to them. So If you are looking for information about the Airtel 1.5GB per day plan for 1 month or the 500MB daily, then you are right close to getting it.
What is Airtel Everyday ON Plan?

Airtel Everyday ON plan is a type of data plan that allocates only a portion of the subscribed bundle for usage every day. Meaning that for example if you subscribe to a data plan of 45GB monthly, you will be credited with a daily data value of 1.5GB every day until 30 days to make the whole 45GB. This plan is designed to make sure you are always on the internet every day.
Similarly, receiving 500MB capped data value every day translates to subscribing to 15GB monthly data on the Airtel Everyday ON Plans.
These plans are one of the silently launched data bundles in 2021. Most importantly they are cheap compared to the regular bundle that gives 10GB for N3000 monthly.
It is another amazing way to monitor the proper usage of data. The plan will help you in optimizing your data usage by restricting the over-usage of MB beyond the daily cap.
Airtel Everyday ON plan is available to all subscribers on prepaid service both old and new SIM is eligible. The plan can be accessed through the USSD code menu *141#
What are the Airtel Everyday ON Plan Bundles?
45GB Monthly ( credited at 1.5GB per day plan) for 6000 Naira
15GB Monthly ( 500MB data value daily capped) for 3000 Naira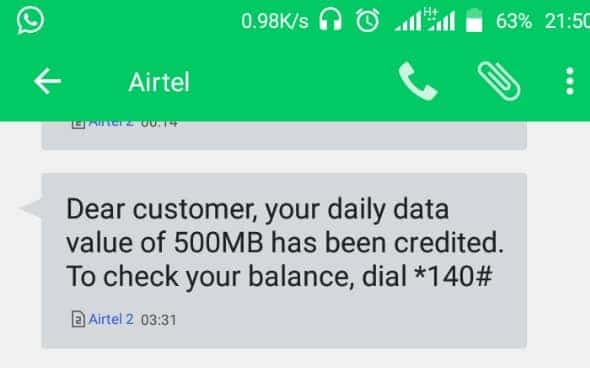 similar data bundles in this same category are the Day and Night Data Plan. this plan gives;
450MB daily for N120
200MB daily for 60 Naira
the day and night plan is also a unique plan that divides the subscribed data volume into two portions for usage during the day and night as well.
Don't confuse it with the Everyday ON Plans.
If you want to check your data balance, dial *140# and look for Everyday On Plans.
Note: The allocation of the Everyday On Plans data value is done by 3 AM daily. If your previous daily data value ( 500MB or 1.5GB ) was exhausted before 3 AM, you will have to wait for a new allocation. on the other hand, if you failed to finish your data by 3 am, the value will be cleared and a new one will be allocated for you.
Airtel 1.5GB per day plan for 1 Month Code
On the Airtel Everyday ON plans, one of the cheapest is 45GB for N6000 monthly which is translated to be credited at 1.5GB daily for 30 days. The code to this bundle is *141*6002# To subscribe to this plan:-
Load at least N6000 airtime then dial *141*6002# or
Dial *141*4# or *141# and select "Everyday on Plans"
From the option, choose 45GB monthly ( 1.5GB per day)
Upon successful activation, you will be receiving 1.5GB of data every day for 30 days.
This approach will surely ensure that your data plan never expires before the date. However, your daily 1.5GB cap could expire on a daily basis if not exhausted.
Airtel 15GB – 500MB Daily Data Plan Code
This plan is great for medium-data users. If your daily data usage is not more than 500MB every day or less than that, then 15GB -500MB is a good option. to activate this data plan,
Load N3000 airtime on your Airtel SIM
Dial *141*3002#
You will receive a confirmation message that your subscription to 15GB – 500MB every day on data plan is successful.
450MB for 120 Naira Daily
This is another good option under the Airtel Everyday on Plans data bundle category. it is a Day and Night data plan suitable for medium and low-data users. Dial *141*4*4# to subscribe.
Note: 330MB of it is usable at night only and valid for 30 days.
Airtel 200MB for 60 Naira Daily
This is suitable if you use only a little of the internet every day. simply dial *141*4*3# to activate the Day and Night Plan 200MB data daily.
Conclusion
At this point, it's believed you know what the "Airtel Everyday ON data Plans" is all about and how to subscribe to any of your choices. The terms and conditions apply to this plan is as the ones applied generally on all Airtel Nigeria data bundles
If this post is useful to you, kindly share it with your friends on Nairaland and other forums and social media channels.
You May Also Like