Is your MTN airtime or data disappearing unaware? if so this is because you have an active subscription service on your line that is causing bills unknowingly. don't worry this post is going to help you to figure that out. you will learn how to cancel subscriptions on MTN that are consuming your airtime or data on your line
This article is aimed to provide a guide to stopping unsolicited chargeable service on MTN South Africa and MTN Nigeria.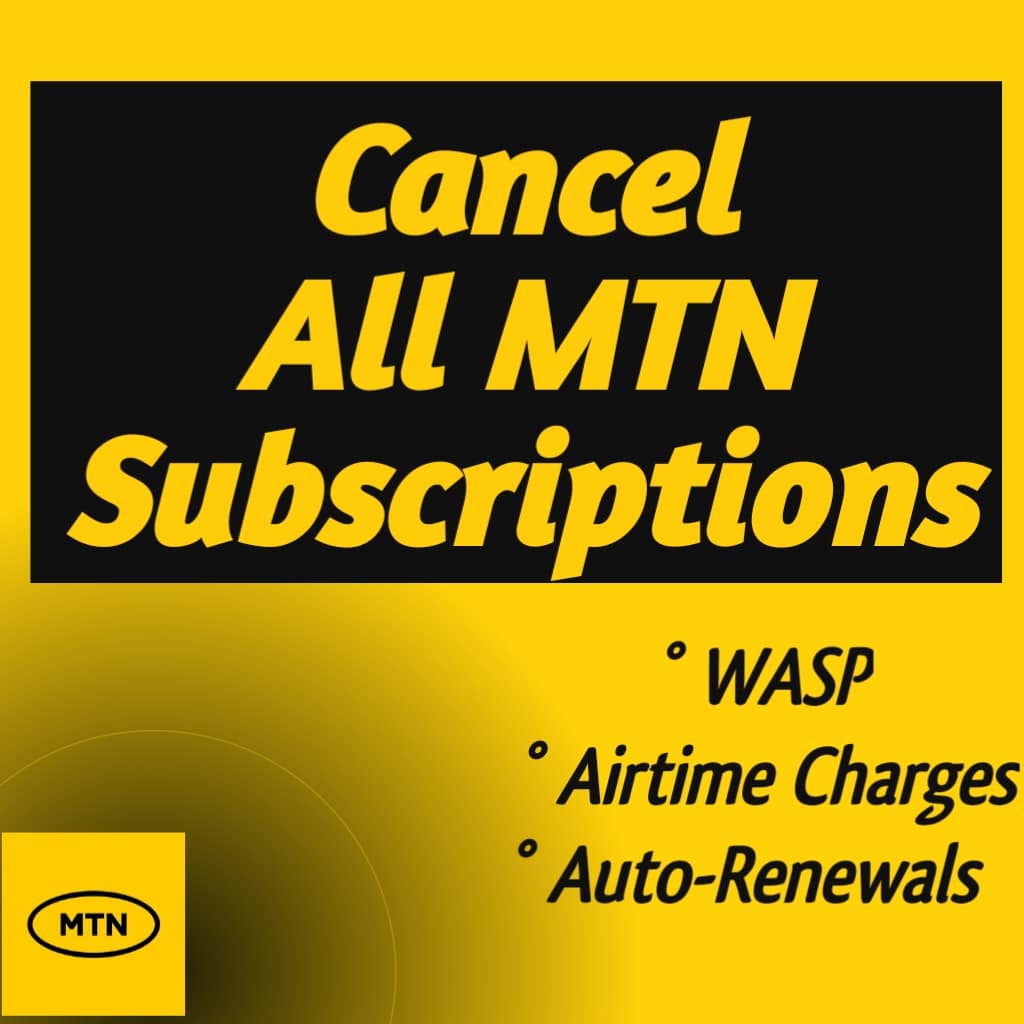 What are these subscription services that are causing unknown bills on MTN?
Before you go ahead and cancel or stop any subscription service on your line, you need to know exactly what is causing it. You need to know the problem first and apply appropriate solutions to it. Sometimes you are aware of the subscription service but you don't want it anymore, other times you don't know about the service perhaps you subscribed to it unknowingly or by accident through flash messages.
MTN has a lot of services that customers are usually subscribed to have access to them. Some are third-party generated and depending on the type of service have an applicable way to cancel.
You can check the active MTN subscriptions on your line via USSD code by dialing *155# and choosing the option that says "view or cancel subscriptions". Similarly to check that via MY MTN APP, login to the app, navigate to Account and click on Manage subscription. All the services you are subscribed to will be displayed.
But if you're an MTN NG subscriber, dial *447# to check for any active content services on your line.
Although the most common subscription service that is causing unsolicited bills on MTN to customers is the Wireless Application Service Provider (WASP), A third-party company that provides services such as bulk SMS MMS USSD and interactive voice response services to customers which most mobile network operators are partnered to. however, network uses are mostly unknown to them. If you are facing constant airtime depilation is mostly caused by an active WASP subscription. Keep reading to learn how to cancel it.
other subscription services that could cause your airtime to disappear or be depleted:
Auto-Renewal of data or caller tune: This is also a common problem faced by many MTN customers.
MTN Play services which include MTN Caller TuneZ, MTN Play & Win, News Alert, Football, TV Music, Sports, and more
Now that you what is causing unwanted bills on your MTN Line, let's see how to cancel them
How to Cancel Subscriptions on MTN SA
There are three ways to cancel all subscriptions on MTN South Africa including those that are causing unknown billing or you don't need anymore on your MTN viz; USSD Code, My MTN App, MTN Customer Care
For USSD CODE
dial *155# and reply with the option that says "view and cancel subscription". Any action service on your line will be displayed, reply appropriately to cancel.
For MTN App
launch the app tap on my account, navigate and tap on subscription if you have any active service it will be displayed. Click on it to unsubscribe.
For MTN customer care
Call 135 and speak with a customer care representative and ask them to check and cancel active subscriptions on your line.
An SMS confirmation will be sent to you containing information about the cancellation of any subscription service on your line.
cancel all subscription services on MTN Nigeria
To cancel any content service on your MTN
Dial *447#
Choose option 1; "Active Services". All active MTN content services on your line will be displayed.
Choose to cancel all or individual service
Done.
After doing that, MTN will stop deducting your credit for content services such as "caller feel, MTN lucky Number, and others.
Final Thought
I hope This article has helped you learn how to cancel MTN subscription and stop getting charged for unwanted services. if you still have issues after applying this guide, drop a comment or contact MTN customer support for further assistance.
Related