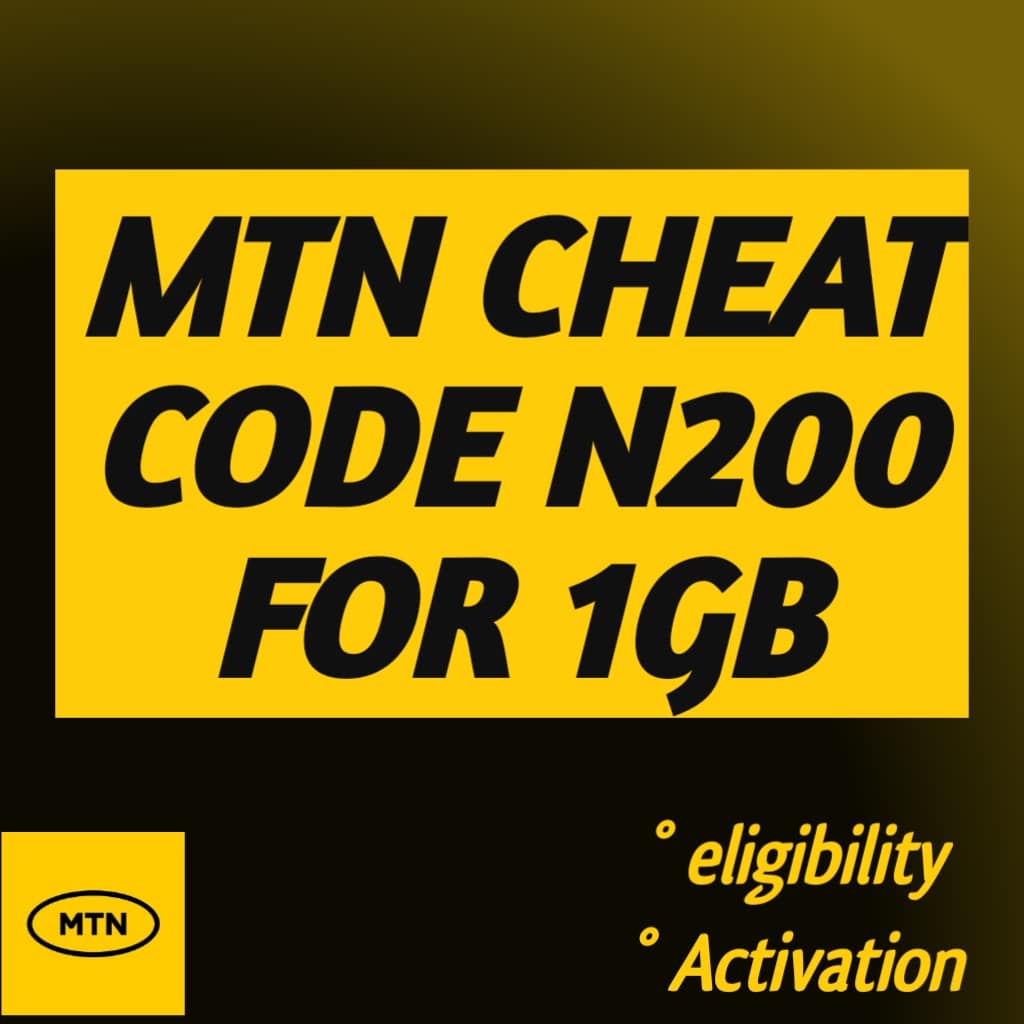 Data plan is one of the products or services MTN offered, these plans have unique codes for subscriptions. One of which is the cheat code for 1GB of data. If you looking for the MTN cheat code to get 200 for 1GB of data? This article has got to let you know that. You will learn how to get it, how to be eligible, and more Read this article for the full guide about MTN cheat code 200 for 1GB data, eligibility for the plan, duration, and how to subscribe
What is MTN Data Cheat Code?
MTN data cheat code could have two perspectives of meaning. It can be defined as a unique USSD code tailored for the subscription of each particular data plan. It could also be referred to as the code that lets customers get an unusual amount of data. The cheat code often provides the easiest way to subscribe to a data plan and it is not well-known by many customers.
Cheat codes are important because it serves as an alternative way to get and activate a cheap data offer. Once you can get data at a cheaper rate, you can do all your internet activity with ease.
Sometimes it gives access to free data. An example is the coupon codes that give up to 100GB of data for free.
Coming back to our topic, the MTN 1GB data plan for N200, one of the cheap data plan that many customers using the MTN network can afford to buy for their internet usage. it has its cheat code for subscription as explained below.
Eligibility to the MTN cheat code for 1GB for N200 data
To be eligible to make use of the cheat code to activate MTN 1GB data for N200, your SIM needs to be older than 60 days and has to be inactive for at least 15 days. Meaning that you shouldn't carry out any chargeable activity such as voice calls, SMS, and subscription services in the last 15 days.
What is the MTN cheat code 200 for 1GB data?
The cheat code to subscribe to MTN 1GB data for N200 is *567*140#, *312*65*2#. Another code to get this volume of data is the MTN4ME code which is *121#.
Without the use of this code, you can't have access to this 1GB for N200 plan using the default MTN Data plan code *312*1#
How to Activate 1GB for N200 MTN Data Plan Using the Cheat Code
Open your phone dial and type *567*140# and send. You will be required to confirm the purchase of 1GB of data for 200 Naira for 7 days. Confirm it to complete the activation.
Note you must have at least N200 airtime in your MTN account balance. Dial *556#
How to Check Data Balance if You Activated MTN 1GB data for 200 Naira Using the Cheat Code
MTN has many ways to check data balance irrespective of the bundle you buy or the type of code you use during the activation. But the easiest way is to dial *323# or *310# to check the balance of your data at any time. *131*4# is now an obsolete code for checking data balance on MTN.