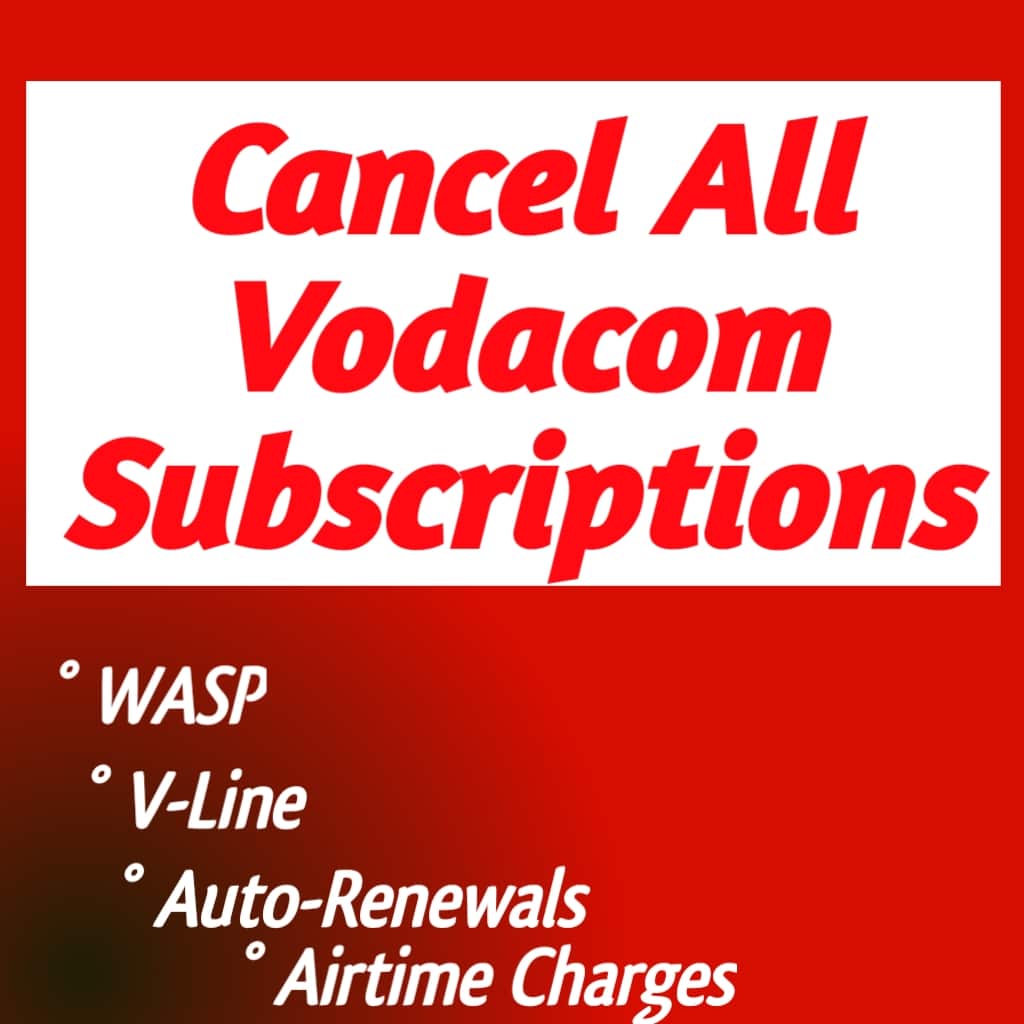 Vodacom is one of the top telecommunication Companies that operate in South Africa. Vodacom provides a lot of products and services that customers enjoy however sometimes a user may not be interested in a particular service as such they will need to unsubscribe from them. in this article, I have explained how to cancel subscriptions on Vodacom network. you will learn how to unsubscribe from all Vodacom services that are causing unsolicited charges
The problem that most customers face is that they are not aware or they don't know which service their line is subscribed to. many don't know how they happened to be subscribed to them. that is why it is important to know and check the services that are active on your SIM and Thus cancel them if no need for them.
What are these Vodacom content services?
The Vodacom subscription content services include:
Wireless Application Service Providers (WASP) service: These are services provided through third-party companies such as SMS or MMS as news updates, ringtones, and horoscopes. WASP services are the content that mostly resulted in unsolicited airtime changes on Vodacom. You can dial *135*997# and select option 1 to check if you have an active subscription to WASP. You can also unsubscribe from the options provided straight away
Vodacom V-line content services
These Vodacom content subscription services such as games, chat, and data bundles. however, they are mostly a one-off purchase and you can manage it by dialing *177#.
Add to Bill Services.
Just like the WASP content services, the Add to Bill is also from third-party companies that you added to your Vodacom bill content such as Showmax, Netflix, or Spotify subscription. however, most of these services can be managed directly from the company's website for example you can cancel Showmax subscriptions on your Vodacom through the Showmax app. Add to Bill content can also be managed from *135*997# or Vodacom App.
Now that you know about Vodacom content subscription services and how to check if they are active on your line, let's see how to stop and cancel them.
How to Cancel subscriptions on Vodacom – Three Ways
They are three effective ways to stop all Vodacom content subscription services on your line: Via USSD code, SMS, and through Vodacom App.
To cancel subscriptions using the USSD code, dial *135*997# and select option 2 to stop all content services. Any active subscription on your line will be displayed to you to unsubscribe. This method is the easiest and fastest way to do that and you can do it from any device: Android, Apple iPhones, and dumbphones or feature phones.
If you want to cancel subscription on Vodacom via Vodacom App, log into the app and select content services from the More tab under My Account from the Menu to see all the active WASP, V-Line, and Add to Bill services on your line. you can select to unsubscribe from all of them in one click
To stop subscriptions on Vodacom through SMS, send "STOP ALL" to 31050 as a text message.
Note that the subscription you can cancel using the methods includes data bundles, caller tunes, and more. but the bill will not be reverted if already due and paid.
FAQs
What is the code to cancel subscriptions on Vodacom?
*135*997# is the code. dial the number code to unsubscribe from all content services.
Related Post