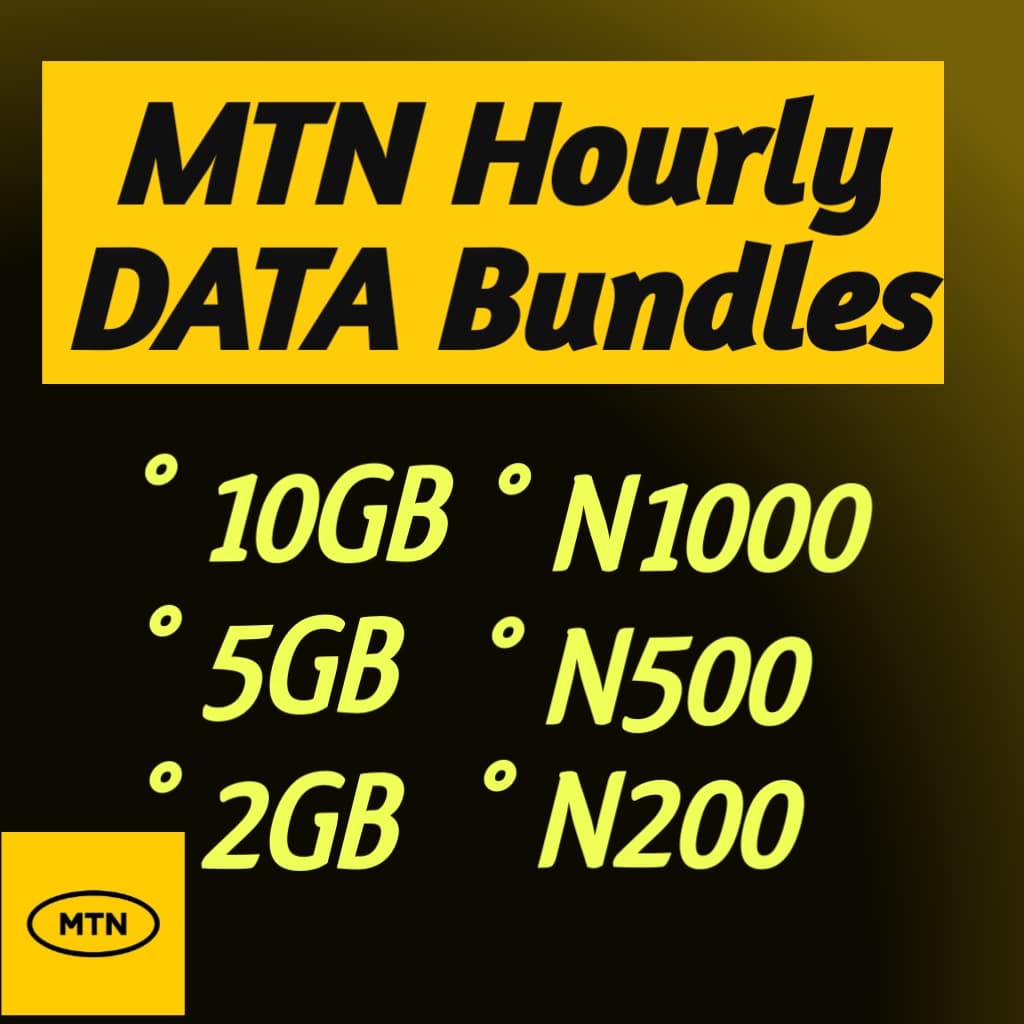 MTN recently join the race and introduce its hourly data bundle that can be used to access all internet activities.
If you are looking for an affordable data plan to use for your internet activities such as downloading fikes and streaming online, then the MTN hourly data plan is a good choice.
In this article, we have explained what the MTN hourly data plan is all about, how it works, its code for activation, and answers to some frequently asked questions you may have at the back of your mind.
What is the MTN Hourly Data Bundle?
The MTN hourly bundle is a type of data plan that is time-based with good value. Meaning that the hourly plans have a specific short time duration for their expiry and offers cheap data plans.
The MTN hourly bundle consists of 3 different plans as follows:
10GB for 1000 Naira Valid for 1 hour
5GB for 500 Naira Valid for 1 hour
2GB for 200 Naira Valid for 1 hour
How does the MTN hourly bundle work?
The MTN hourly bundle works by letting you activate cheap data plans that expire within an hour of subscription. That's why the plan is called an hourly data plan. Imagine getting up to 10GB of data for N1000 only, isn't that a good deal?
The hourly data plans can be used to do all internet-required activities. Once you activate a hourly plan, you can use the data to chat on social media platforms such as Facebook, Twitter, and WhatsApp. Also, you can use the same plan to watch movies online or download any downloadable files online.
The hourly bundle can be activated multiple times to accumulate more data. This tactic is extremely useful to those that want to download large files online or stream heavy video content.
Even if you have an active Bundle on your line. It is still possible to activate the MTN hourly bundle when you need it and your data usage will automatically be prioritized to deplete the hourly data plan first as long as your initial active plan is of longer duration than the hourly bundle.
You can also roll over your unused hourly data plan only if you buy the same bundle with a grace period of 24 hours.
MTN hourly data plan code
The code to buy MTN hourly bundle is *312*1*10#. You can dial it to subscribe to any of the time-based hourly data plans.
How to Activate MTN Hourly Data Plan
Dial *312*1*10# and send. From the list of hourly data plans that show up, choose option "1" to activate 2GB hourly bundle, option "2" for 5GB hourly bundle, and option "3" for 10GB hourly bundle at N200, N500, and N1000 respectively.
Alternatively, you can dial *312*1# and choose the option "10" for hourly data plans.
You can also easily use the hourly plans direct USSD Code to Activate the bundles respectively.
For 2GB Hourly plan, dial *312*126#.
For 5GB Hourly plan, dial *312*127#.
For 10GB Hourly plan, dial *312*128#.
Data balance checks for the hourly bundle.
To check your MTN hourly plan data balance, dial *312*4# and send. The details of your data balance will be sent to you via SMS.
Last Words
At this point, it is assumed that you have understood all about the MTN hourly plan. However, if you still have questions, post in the comment box below.
Related post: