This post is about the Airtel hourly data plan. After reading this article, you will know the meaning of the plan, its code, benefits, and how to activate any of the 10GB, 5GB, 2GB plan in the bundle.
Meaning of Airtel hourly data plan
As the name implies, the Airtel hourly data plan is a type of data plan that expires after one hour of activation. This means that the plan let subscribers activate cheap data plans that are short time based of 60 minutes validity.
The plan can be used on all devices; Android and iOS iPhones. The plan works on 3G/4G/5G network and phones.
The hourly data plans are very similar to the night data plans that last for five hours night only. However both comes with a special benefits and usefulness.
Benefits & Usefulness of The Airtel Hourly Data Plans
The hourly data plans are characterized to be very cheap as compared to that of standard data plan on the Airtel network. With N500 you will be able to subscribe a 5GB hourly plan while same N500 will only get you not more than 2GB of data depending on the the category of bundle.
The Airtel hourly bundle is very useful for subscribers that needs to use high amount of data such as downloading heavy files or streaming of videos online with in short period of time. It will cost cheaper to use this plans if are a users that consume large volume of data at a time.
On Interesting thing about the plan is that you can activate and use it anytime of the day or night.
Airtel Hourly Data Plan Code
The code for the hourly data plan on Airtel is *312*61# or *141*61#. You can use the code to access and activate any of the hourly time based plan available on Airtel
The Airtel hourly bundle includes the following plans: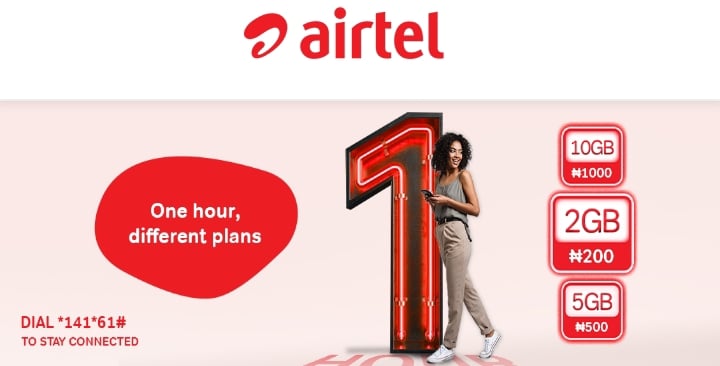 2GB for N200
5GB for N500
10GB for N1000
How to Subscribe to the Hourly Data Plan on Airtel.
To buy a hourly data plan on Airtel, dial *312*61# and send. From the three different plans that will be displayed on the pop up that appears on your screen, reply with appropriate number: "1" for "2GB for N200" plan, "2" "for 5GB for 500 Naira" plan and "3" for "10GB for 1000 Naira" data plan respectively.
Confirm your your selection and the subscription will be successful.
Note: if *141*61# doesn't display the hourly plans for you, dial *312*61# and send to activate the Airtel hourly unlimited data plan. *312*61# is new and updated code for subscribing to the plan.
Balance Check
Although the hourly plan is of short time validity, but you can still check and monitor your data usage. To check your Airtel hourly data balance, simply dial the new data balance checking code *323# and send. Airtel will send you an SMS containing the details of your data balance.
Lastly
This article has explained all the details about the current Airtel hourly plans, if you have any further questions please feel free drop them in the comment box below and also share this amazing offer to friends and family.
Related