This post is about the Glo 1GB for 300 Naira data plan. here we have explained how to get and Activate the plan, we give its subscription code and talk about its validity either if it is a 1-day daily plan, 3 days, or 7 days weekly plan.
Now let us go into details.
About Glo 1GB for 300 Naira Data Plan
The Glo 1GB for 300 Naira data plan is one of Glo's special data offer that gives 1GB of data for as low as N300 to all subscribers in the Globacom network. The data was first created in 2018 and revised in 2019. It is one of the most liked data plans among Glo subscribers since its introduction. Many including myself have enjoyed and really took advantage of the plan.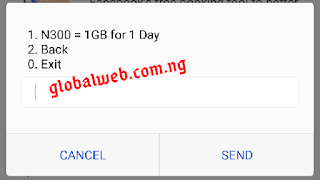 The plan was formally 1.2GB for N200 and valid for 3 days which can be used to browse, download and stream online on all devices was recently discontinued by the network provider and disclosed on social pages like Twitter to introduce something different instead or even better.
Now the Glo special data offer is back at a volume of 1GB for N300 with 24 hours validity, not 7 days. This, unfortunately, is less good as compared to the initial discontinued plan; the volume and its validity are decreased, while the cost increased as well.
Notwithstanding the plan is still special as compared to other plans from the other service providers. If you want to embark on the plan as it is, follow the steps below to subscribe.
How to Subscribe for Glo 1GB for 300 Naira Special Data Plan
This is the way to get 1GB for 300 on Glo;
Load your line with at least N300 then
Dial *777# from your phone
From the screen prompt, select Data
Choose Buy Data Plan
Choose proceed (one-off)
select special data offer
Choose Special Plans
Select 1GB for 300 Naira data plan

After that 300 Naira will be deducted from your line you will be given 1GB valid for 1 day. If Glo decided to add a 500MB bonus to your subscription, you will get 1.5GB instead.
Alternatively, you can also get that using the Glo cafe app or by buying the Plan from the Glo website https://www.gloworld.com/ng/personal/data/data-plans
Glo 300 for 1GB for 7 days Data Plan
The Glo data plan 300 for 1GB is not valid for 7 days, the duration of the plan is 1 day (24 hours) and there are no cheat ways to extend its validity to 7 days.
If you need a data plan with a reasonable price and duration, activate the 14 days 1.8GB for 500 Naira data plan. this could serve as an alternative to the Glo 300 for 1GB for 7 days data plan. dial *777# and choose the weekly data plan to activate.
Conclusion
That's all. If you have any questions use the comment box below. Any other Glo data plan can be found by dialing *777#.
Related post: