This post contains all the information you need to know about the Glo youtube plan such as data volume, activation cost, how to buy it, balance, and duration of the plan.
Youtube is one of the biggest video-sharing platforms interacted with by millions of users across the globe. Using this service requires a large volume of data and thus, a unique bundle is most set aside for the benefit of customers.
About The Glo Youtube Pan
The Glo youtube plan is a plan that offers special data offer crafted to enable access to youtube only at a relatively low cost. Starting in 2021, The plan was originally a time-based offering 1 hour of Youtube access for 50 Naira, 3 hours for 130 Naira, 5 hours for 50 Naira ( Night only), and 7 hours for 200 Naira (Night) with applied terms and conditions of fair usage policy. The YouTube plan is a combined time and day bases.
Unlike the regular data plan or other social bundles, it offers unlimited access to content on youtube within the stipulated subscribed hours with both night and day plans. According to find out the hourly plans are not unlimited. The N130 for 3 hours has data capped at 1.5GB while the 1-hour plan is less than that in terms of the data volume of 500MB.
However, at the time of updating this post, The Glo youtube Plan now is more of a data duration-based with plans of 100MB, 200MB, and 500MB for 1 day, 7 days, and 30 days respectively. This is to say that the plan has its time-based expiration removed.
Below are the lists of the plans, subscription cost, and their validities
List of Glo YouTube Plan – (Time-Based Day & Night)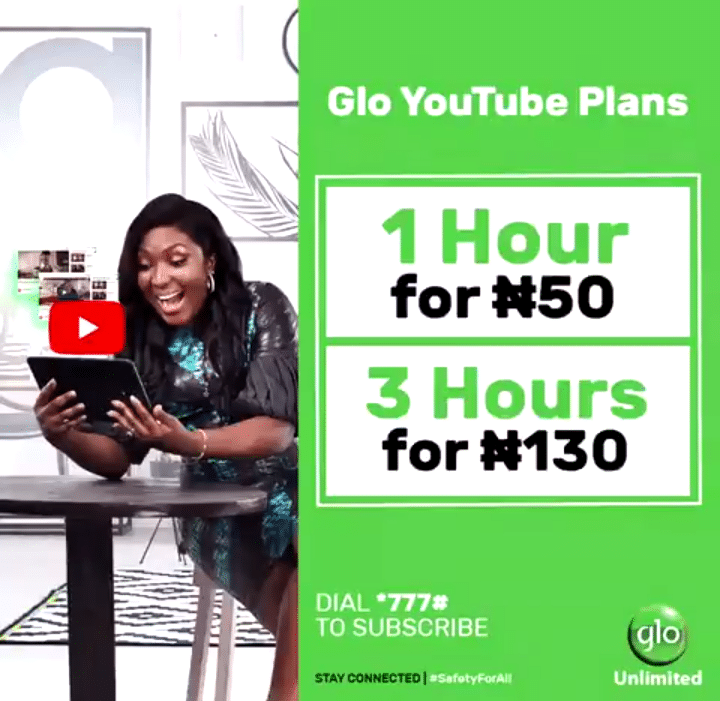 1-hour access for N50 – 500MB
3 hours of access to videos for N130 – 1.5GB
5 hours for N50 (Night) – 500MB
7 hours for N200 (Night) – 2GB
Glo Youtube Plan – (Data-Based)
100MB for N50 1 day
200MB for N100 7 days
500MB for N250 30 days
Glo youtbe data plan code
the code for the youtube plan is *777#. sometimes referred to as the cheat code. You can dial it to subscribe to any of the plans.
How to Subscribe to Glo Youtube Plan
method 1,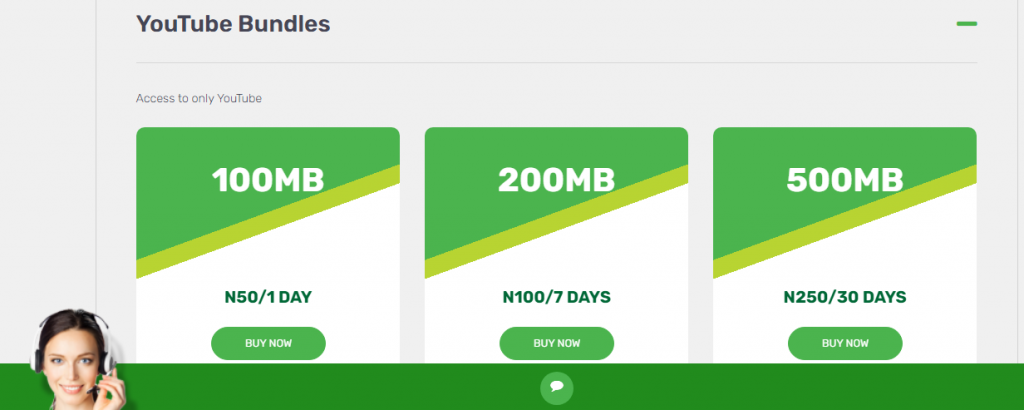 To activate the youtube data plan, simply dial the code *777# then Select Data >> Buy Data Plan >> Proceed (one-off) >> Social Bundles >> Youtube Bundles and choose from the 50 Naira for 100MB, 100 Naira for 200MB, 250 Naira for 500MB plan and buy. the selected amount will be deducted from your phone balance the data will be credited.
Method 2,
this method will enable you to activate the time-based Glo youtube night Plan in addition to the data-based own.
Download the Glo cafe App (self-service app), sign up using your mobile number and click on Buy data, and select social bundles to subscribe to the youtube data plan of either the 100MB, 200MB, or 500MB. for the night youtube plan, choose 200 Naira for 2GB or 50 Naira for 500MB.
the last method is to buy a youtube plan from the Glo website https://www.gloworld.com/ng/personal/data/data-plans and navigate to Youtube bundles. to buy the plan of your choice click on Buy and input your mobile number and email. payment is via internet banking.
Youtube Plan Balance Check
to check your Glo youtube bundle balance dial *127*0#. the status of your data plan will be returned to you as an SMS or flash message containing the volume of data remaining.
Duration
The duration of each Glo youtube Plan is as follows;
100MB – 24-hour (1 day)
200MB – 7 days
500MB – 30 days
Bonus
The Glo youtube plan comes with a bonus attached: free youtube night data and extended watching or streaming time at night. you can only enjoy that when you activate the bundle.
FAQs
Why is Glo Youtube Plan Not Working?
Glo youtube plan will not work if you have exhausted your data or if you are trying to use the night data during the day or not accessing youtube, not from its App.
solution – confirm that you still have youtube data by dialing *127*0#. ensure that your data is night only then try accessing youtube at the night.
Is Glo youtube plan unlimited?
No, the Glo youtube plan is not unlimited. it only gives you access to stream videos on youtube only for the stipulated data and time you subscribed to. if your plan is time-based and you already exhausted the stipulated data before time, your connection might be throttled for the rest of the time duration remaining.
how to cancel Glo youtube plan
to cancel or remove your youtube plan from auto-renewal, send 'CANCEL' to 127 as a text message. you will receive a reply that you have opted out of auto-renewal.
However, if you already activate a plan, you likely not going to be able to reverse it.
Conclusion
That is all about Glo youtube plan. if you have any further questions please tell us in the box below. don't forget to share