Hello TechAfresh Readers! It's something new and bigger for Airtel Nigeria, 500MB daily free browsing per SIM via the latest 2021 v2ray client Apps (UTloop, HTTP Injector, and NapsternetV) learn how to configure it below.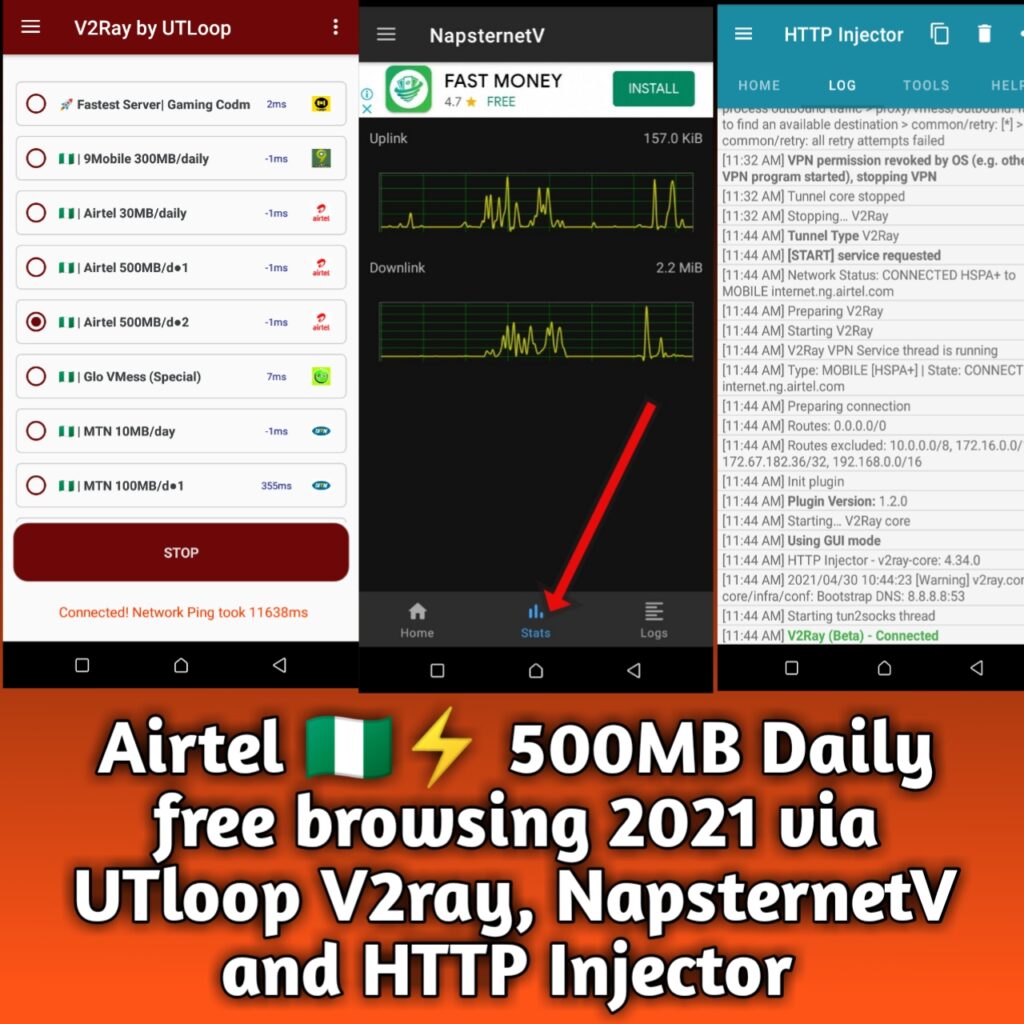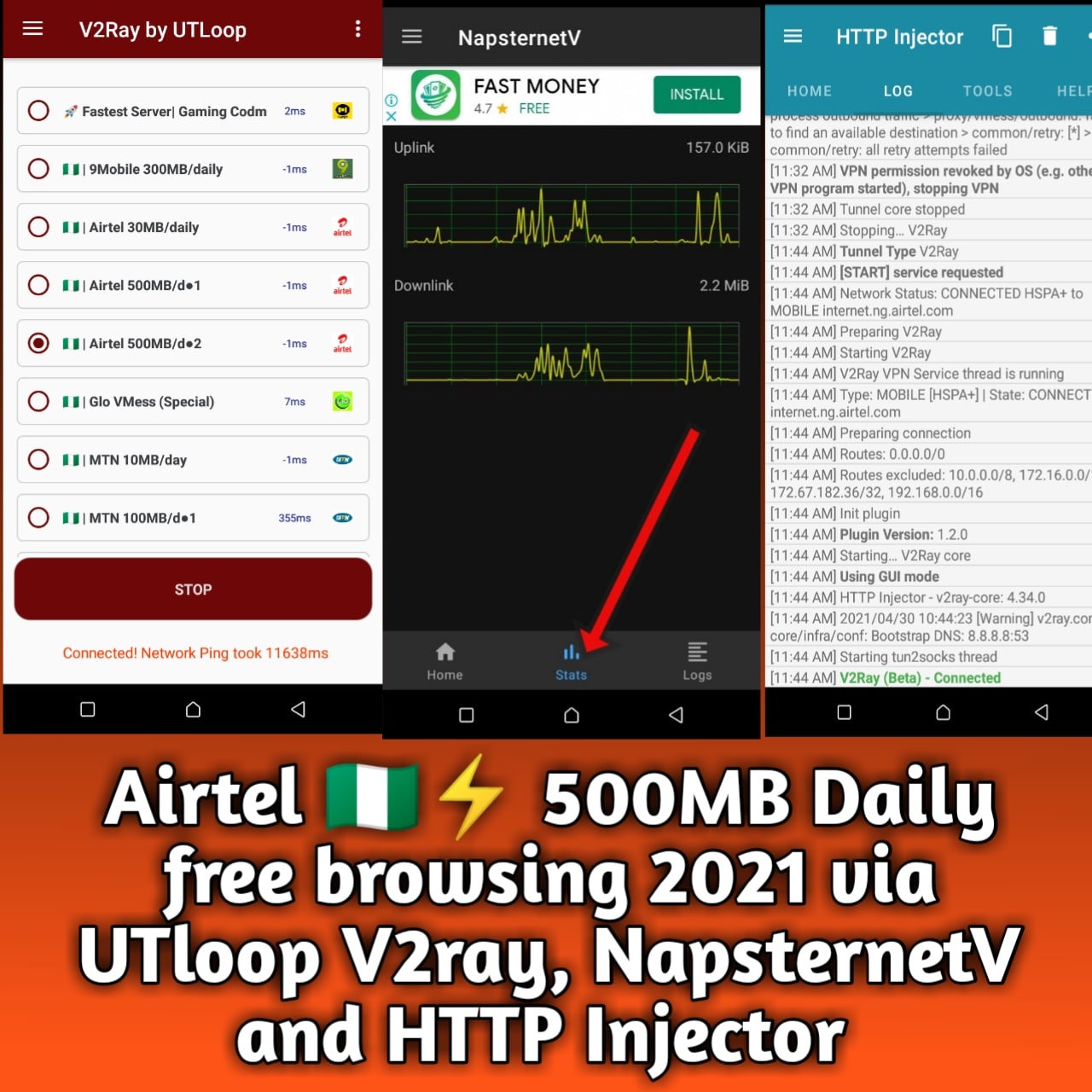 The free Airtel 500MB browsing is unlike others, it works on all Android smartphones and for all SIMs as long you have any of the v2ray App. This post is going to give you the step by step guide on how to set and activate the latest Airtel 500MB free browsing and the required configuration files.
This internet browsing is similar to the previous post of Airtel 0.0kb browsing which has a data capped at 30MB daily using v2ray client but this is better, bigger, and faster.
The Airtel 500MB daily free browsing works on any of the v2ray client App, depending on the one that works better for you or if you prefer inbuilt configuration or that of external files.
Also Read: How To Activate Airtel 500MB Social Bundle Tweak
Airtel 500mb via V2ray by UTloop VPN
For this App, The only thing you need to do and start enjoying 500MB free browsing daily is to download it, select Airtel 500MB, and click on START to begin, once connected you will see it as seen below. There's no need for any config for Utloop v2ray App.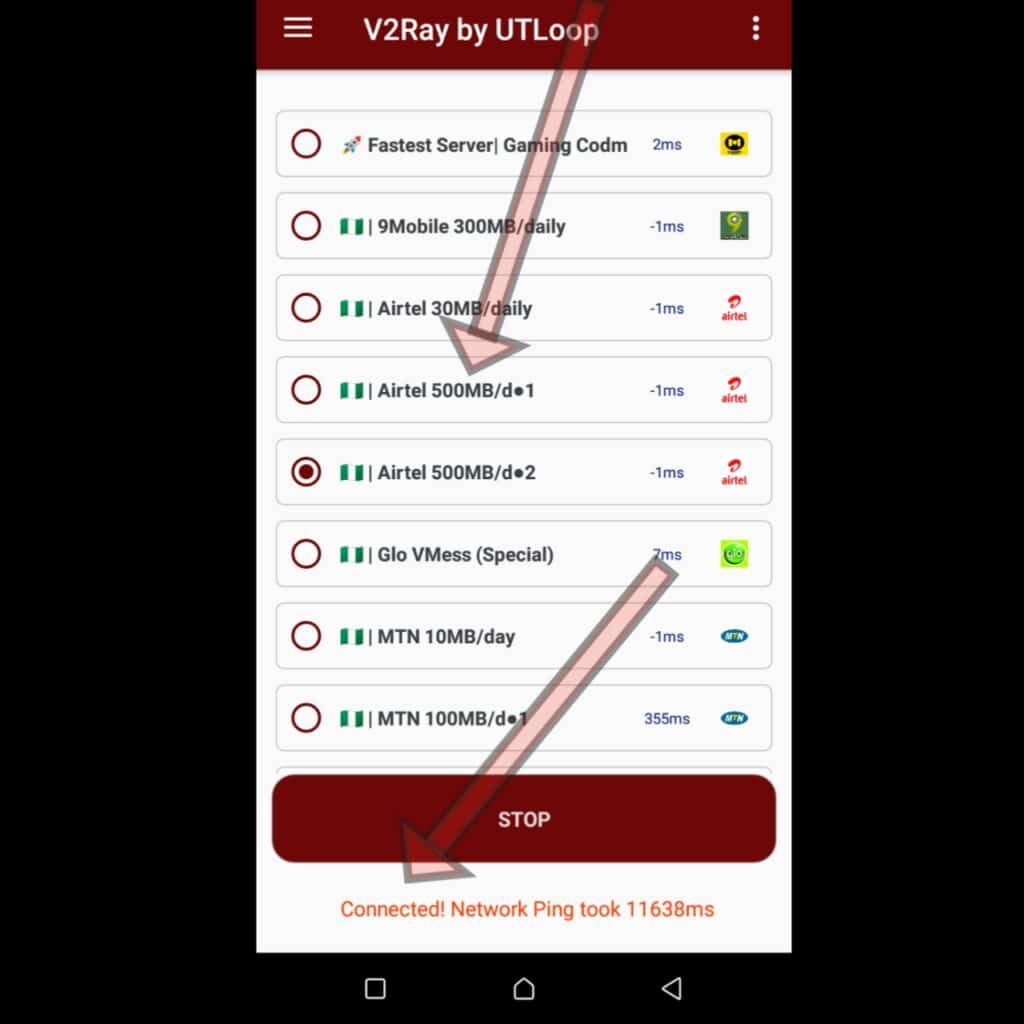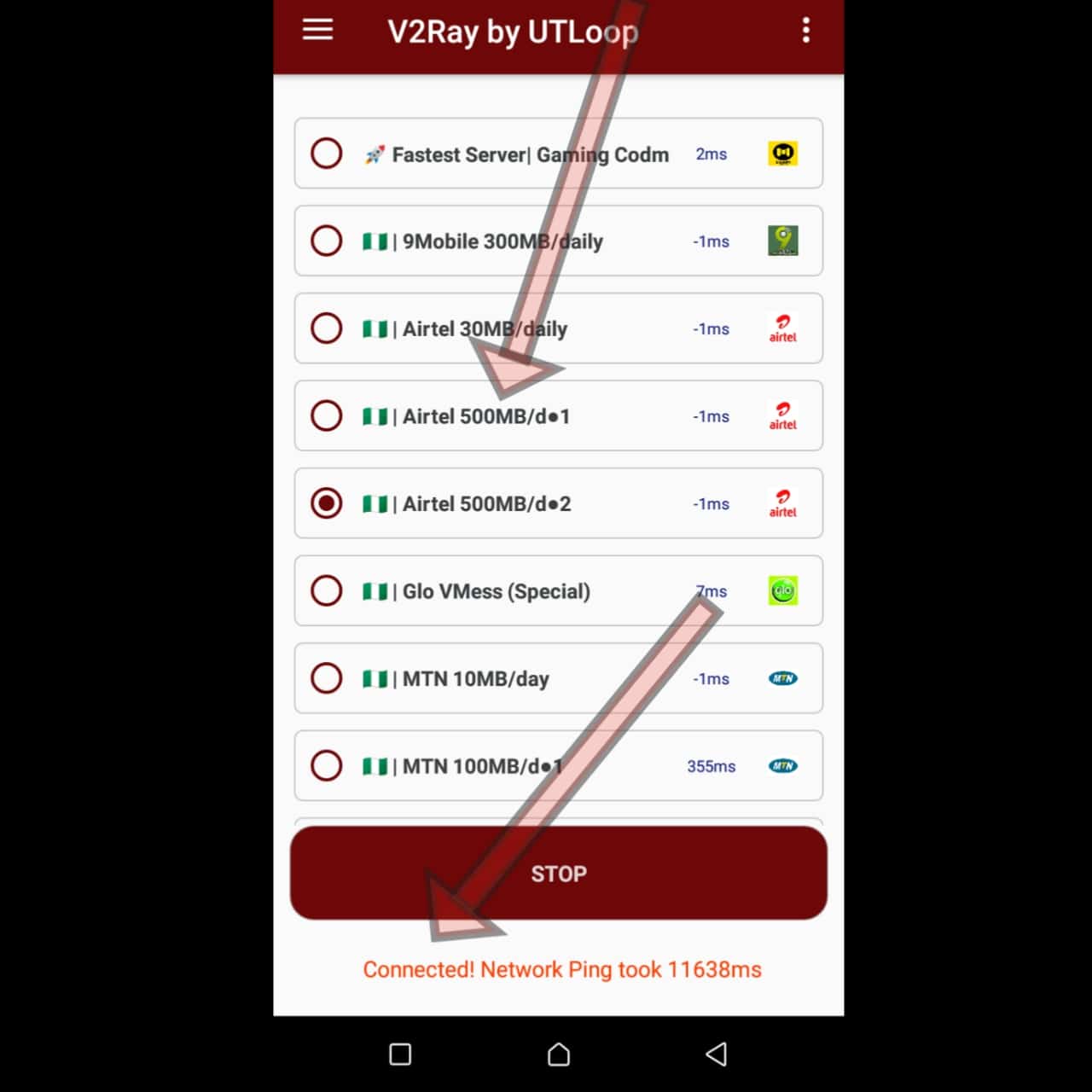 Related Post: MTN 100MB Daily via V2ray Client Apps
Airtel NG Free 500MB Data Daily Via Http Injector
HTTP Injector is a popular VPN tool due to its stability and connectivity but it always requires a configuration file for it to work, for Airtel 500MB daily data, simply download the file below, import it, and clicks on start to Connect
Download HTTP injector App here with its v2ray plugin.
Note file expires a maximum of every 5days, you will have to come back here to download the latest one.
Airtel 500MB Daily Free Browsing Via NapsternetV
NapsternetV v2ray client App requires and uses npv2 config file too for the Airtel 0.00kb 500MB data daily. Simply follow the steps below to configure NapsternetV for Airtel Nigeria 500MB free data 2021.
Download NapsternetV from Play Store (Click Here)
Download Airtel 500MB Free npv2 file from the download page below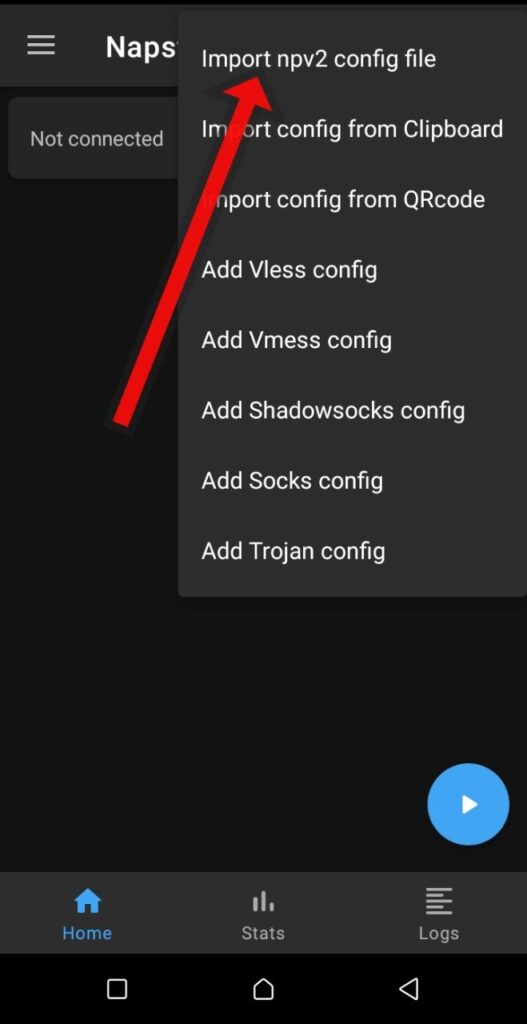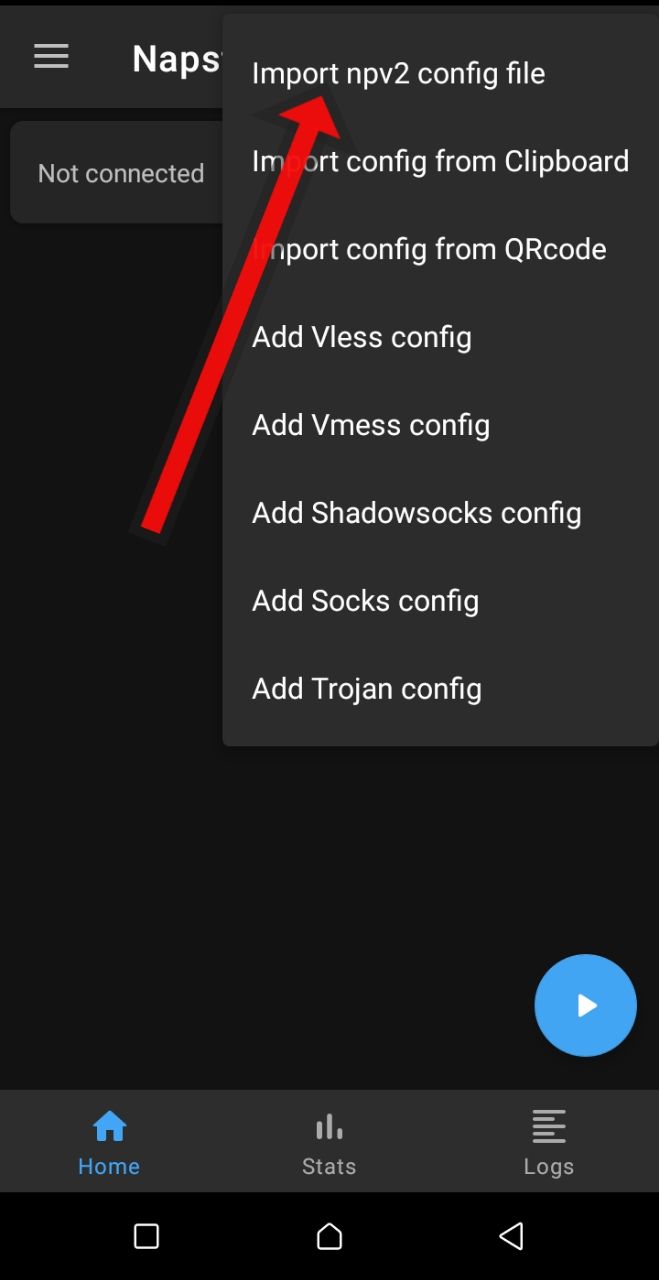 Step1: click on the ➕ sign at the top-right corner of the screen
Step 2: Click on import npv2 config file and
Locate where the file is on your file manager then click on it. It will be imported
Step 3: After import, Tap on the configuration file Untill you see blue highlighted color beside the name of the file
Step 4 now click on the play/start button at the bottom right corner to connect.
Step 5: Click on stats to check your connection. If the up/downlinks are reading, then your file is connected and working
That is that about the latest Airtel 0.0kb 500MB daily free browsing, use it while it last!
Note that this post for educational purpose and to alart ISP of the loop hole on their network.