Do you have enough data balance that you want to share with your friend? Or are they requesting that you send them some data just like you used to send them airtime? Yes, Data transfer is actually possible with the help of the Airtel SmartShare service. This article talks about this service and explains how to share data on the Airtel network in three ways.
Of course, the network offers opportunities to transfer data to friends and family in need of it. That's what I'm going to explain in this article in simple steps. Read below.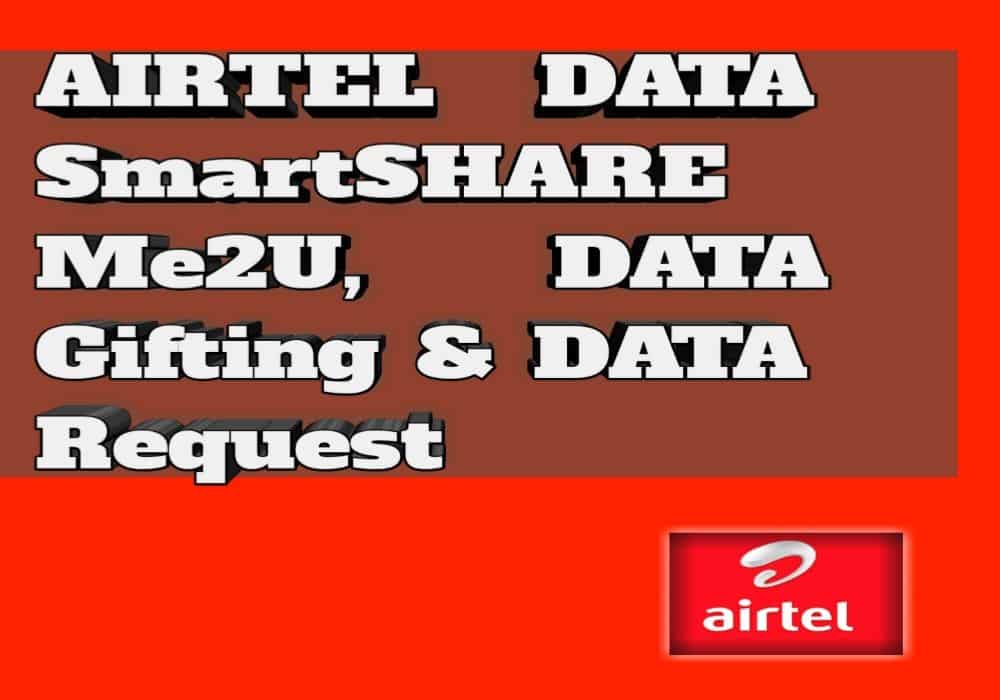 What is Airtel SmartShare 
Just like the MTN Data Gift service, Airtel data share or transfer service, also known as Airtel SmartShare, is a service on the Airtel network that allows you to transfer data from your existing bundle subscription to another Airtel customer, buy a new data plan for them from your current airtime balance, or request the same from them.
That is to say, the Airtel SmartShare is categorized into three categories: Data Me2U, Data Gifting, and Ask A Friend for Data Share
The SmartShare service is available to all Airtel customers, both prepaid and postpaid users, and all SIMs can use the Airtel SmartShare service, whether old or new customers
Another point to note is that the Airtel SmartShare service is only used to transfer data from one Airtel line to another Airtel line. Meaning that you cannot share data from Airtel to MTN or any number from another network. If you are looking for how to do that, then it's not possible, as far as we know.
It is important to know that you can only transfer or share data with a maximum of two people daily and a maximum of 200MB at a time. This means that you can share either 50MB, 100MB, or 150 MB up to 200MB for one friend daily and up to two recipients. In a nutshell, you can only share 400MB of Airtel data daily.
However, you are also required to change the default PIN, which is 1234, to a desired 4-digit PIN to be able to use the Airtel SmartShare service. This is important to avoid any unauthorized data-sharing transactions on your mobile phone.
Without wasting much time, let me begin to discuss the first method (Data Me2U), its eligibility, its code, and how to share data on it.
Airtel Data Me2U
This is a service to transfer data from your existing data balance to another Airtel SIM. For example, if you have a 2GB monthly subscription, you can decide to send 200MB to your friend out of it. It's also known as the Airtel data share, and all customers are eligible for it.
The data shared with the Airtel Data Me2U service will have the same validity as the senders' bundle and The bundles available to send are the regular monthly, daily, weekly, or mega packs. 
How to Share Data on Airtel Me2U
To transfer data on Airtel from your existing balance using Me2U, simply dial the code *312# and select the Gifting/Sharing option. On the next screen, choose the Option for Data Me2U.
This will provide you with an option to select the amount of data to share and the recipient's phone number to enter, which must be an Airtel customer, as I said earlier.
Note that your default transfer PIN is 1234; kindly change it on the Data Gifting / Sharing menu.
Data Gifting
Airtel data gifting is a service that allows subscribers to share a new data plan with another customer. With this service, your friends/family will always have an option when they run out of data.
How to Transfer Data on Airtel (Data Gifting) 
Data gifting simply refers to the gifting of a data plan to a friend or family member. To Gift data to a friend, simply dial the same code as for Data Me2U, *312#, then navigate and select the option of Sharing and Gifting. Next, choose Data Gifting.
On the Data Gifting Menu, Select either a daily, weekly, monthly, or mega bundle you want to activate for your loved ones. Select appropriately, then follow the prompt and authorize the transaction using your unique 4-digit PIN code to finalize the subscription.
Once the Data sharing is successful, both you and your recipient will receive a confirmation message.
You should know that you must have enough airtime on your account balance to buy the data bundle you want to share with your friend.
Unlike Data Me2U, there's no restriction on the amount of data you can gift or the number of people you can buy a data plan for. At your discretion, you can transfer a data gift of up to 16GB to your loved ones at any time, any place.
Airtel Ask A Friend
Airtel's Ask A Friend lets you request a data transfer from a friend or family member. This is used when you don't want to make your request verbally or are currently far away from your friend.
Read Also: How to Share Data With MTN Data Share
How to Request Data from a Friend on Airtel
If you want to ask your friend to share data with you, simply dial *312# and navigate to Gifting and Sharing > Ask A Friend. Enter the benefactor's mobile number (the person you want to ask for the Airtel data share from), click OK, and wait for a reply and feedback.
The person on the receiving end will receive a message like the one below. 
Dear subscriber, 2349044****50 has requested a Data Gift from you. To Gift Data, Dial *312# now. If you wish, you can grant the request.
Conclusion
With this, I believe we have a covered article about how to transfer data on Airtel. Next time, do not stay or let your loved ones stay out of Data. You can always check your data balance by dialing *140#. If this information is helpful, kindly click the share button below.
More on data share