To buy data online means to utilize online channels like self-service Apps in purchasing the data.
Although The most popular method to buy mobile data on Airtel is the offline method using the USSD code. Even though it is the easiest, that is not the only way to buy data. On the Airtel network, you can also buy data online and pay using your debit card or Airtime. This method is available in every country where Airtel operates.
Buying data online is advantageous, especially when you need to buy it for someone else or when the offline method is out of service.
In this post, we're going to explain how to buy data on Airtel online.
Advantages of buying data on Airtel Online
Buying data via the online channel comes with benefits. One of which is the free data bonus. If you buy Airtel Data via its service app, you can get up to a 20% data bonus for free.
Another advantage of buying data on Airtel via the online channel is that it serves as an alternative to the offline method at any time.
Ways to buy data on Airtel Online
Buying data from the Airtel Self-care App & web portal
Buying from Bank
Purchasing data from Online Mobile Money Services
How to buy data on Airtel online using the self-care App & web portal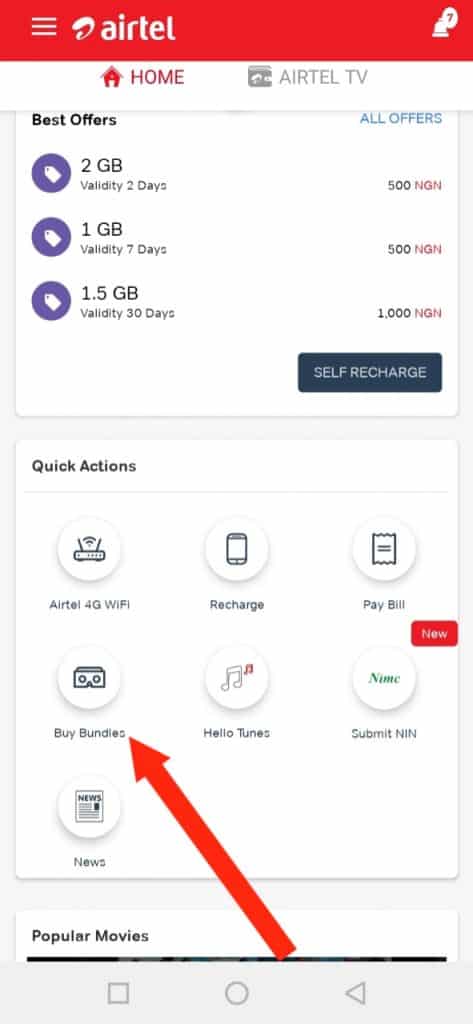 The Airtel self-service app is a mobile application that allows you to manage your Airtel phone number account and perform transactions such as airtime recharge, data purchase, bill payments, and transfers.
To use the app to buy data from Airtel online, first, download it from Google Play or the App Store. Start the app and log in with your phone number. From the menu, locate and click on "Buy Bundle," then select your preferred data plan and follow the on-screen prompts to complete the purchase online.
You will be required to pay for the purchase using your debit card.
Airtel operates in many countries around the world. In a similar way to the app, you can buy Airtel data online from their web portal. To do this, visit your country's Airtel self-service website, locate the data bundle services, and perform your subscription.
For Airtel Nigeria, goto Airtel.com.ng, for Airtel Uganda goto Airtel.com.ug
How to buy data on Airtel Online From Banks
Banks offered USSD code services to buy mobile network data. But they also offer an online way of subscribing to data bundles through their mobile apps.
Irrespective of the type of bank you use, to buy data on Airtel from banks online, you first need to install your bank's app on your smartphone. Then locate the data purchase service in the app and perform your data bundle purchase.
If your banks offer the same service through their web portal you can visit the portal and perform the same purchase.
If don't have your Bank's mobile App, You can securely get the download link to the App from your Bank's customer care.
How to buy Airtel Data online from mobile Money Services
Mobile Money Services are online platforms that let you carry out mobile transactions online, such as bill payments, money transfers, airtime recharges, and data.
One of the popular mobile money platforms in Africa is Opay by Opera. You can use it to buy Airtel data easily. You can also buy from a popular shopping platform like Jumia.
To buy Airtel Data from Opay Online, simply install the Opay app from Google Play or the App Store for Android and iOS devices, respectively. Launch and log in to the app or sign up using your phone number if you don't have an account before. From the Opay interface, locate and click on the data purchase service. Follow the on-screen procedure to buy data on Airtel online from Opay.
If you use the Jumia Pay app you can buy Airtel data online by selecting 'Mobile Data' from the list of services once you open the App.
Related Topics