Do you like getting an airtime bonus when you recharge? Well, as a Glo customer, it is now possible to get up to a 10% recharge bonus for every recharge made via E top-up.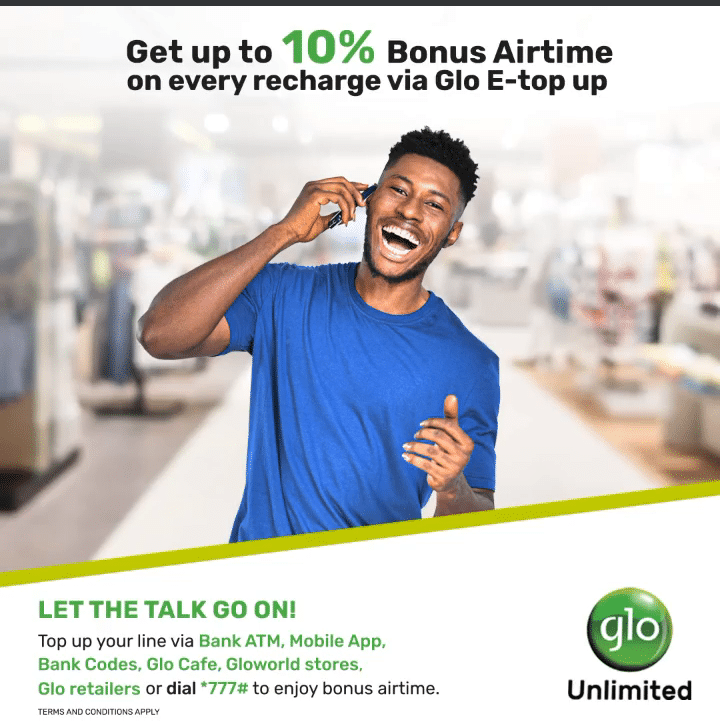 In today's article, I will talk about how to get up to 10% airtime bonus on every recharge on the Glo network. This is a good deal to always try out, especially when you are the type that recharges a lot.
Preferably I would use this service when I'm planning to buy a data bundle because it will be as if I stoning two birds with one stone. I got the data plan as well as airtime to make calls.
Now let me tell you how to go about getting it.
Getting Glo 10 times Recharge Airtime Bonus – 10%
The 10% Glo recharge bonus can be gotten by making a recharge via Glo E top-up channels. The E-Top-up service offers flexibility and convenience to customers by allowing them to recharge their Glo lines or those of family and friends without scratching any card or requiring a PIN. If you recharge N2000, then you get N200 in addition to your original amount. The bonus airtime can be used to make calls to all networks and expires in 7 days.
These Glo E Top-up channels include;
Bank ATM
Mobile App
Bank Codes
Glo Cafe
Glo world stores
Glo Retailers
Glo *777# USSD
Related: Method to Get 10% Airtime Bonus on Every MTN Recharge
Using Bank ATM:
As a bank account holder in Nigeria, you ought to have an ATM card as well. If you intend to get grasp the Glo 10 percent airtime bonus using ATM, just go to any nearest ATM and insert your ATM card, Pin. Follow the on-screen prompt to carry a quick teller recharge card transaction.
From Mobile App
This includes using Bank Mobile App or other trusted Marchant app services you use such as Opay or Jumia. When you buy airtime from this service, Glo takes note of that and adds a recharge value of 10% airtime bonus to your account.
Using Bank Codes:
Your bank USSD code can fetch you this Glo airtime bonus, All you have to do is to dial the mobile banking code and follow the on-screen prompt to make a recharge from the bank.
Note: your bank account will be charged.
Using Glo Cafe
Glo Cafe app is a one-stop destination for managing your Globacom account, bill payments, mobile recharges, and lots more. To get the recharge bonus via this app you need to download it from Google Play or App Store and Sign In with your mobile number. Hence you buy Glo Airtime from Glo Cafe, you earn 10% bonus airtime to call all networks in Nigeria.
For getting a Glo airtime bonus from the Gloworld store, simply go into any of the Glo stores nearby and make your request. Be it N1000, N5000, N10,000 N20000, or higher. You can find a store nearest to you by clicking https://gloworld.com/ng/find-a-store
Same for Glo Retailers, you make a request from the nearest retailer to you.
Glo *777#
Globacom *777# USSD is the code for Glo's everything including mobile recharges. Dial it and follow the on-screen prompt to buy the desired amount of airtime from N1 to N500,000 and stand a chance of getting back up to a 10% recharge bonus.
Now you are set! Enjoy!
Related
Reference
Facebook | Glo World https://fb.watch/c2qs4qXACS/
Press Release at https://www.gloworld.com/ng/blog/posts