All network offers free data, you just need to know how to get one. For the latest MTN free data offers, this article has the details List and guide on how to get them. The data includes the latest free MBs, promo, and cheat codes. After reading this post, you should know how to get free data on MTN for 20GB, 10GB, 4GB, 1GB, and (1 of X GB) where x is a number to mean 50GB, 100GB 500MB or any other digit in Nigeria, South Africa.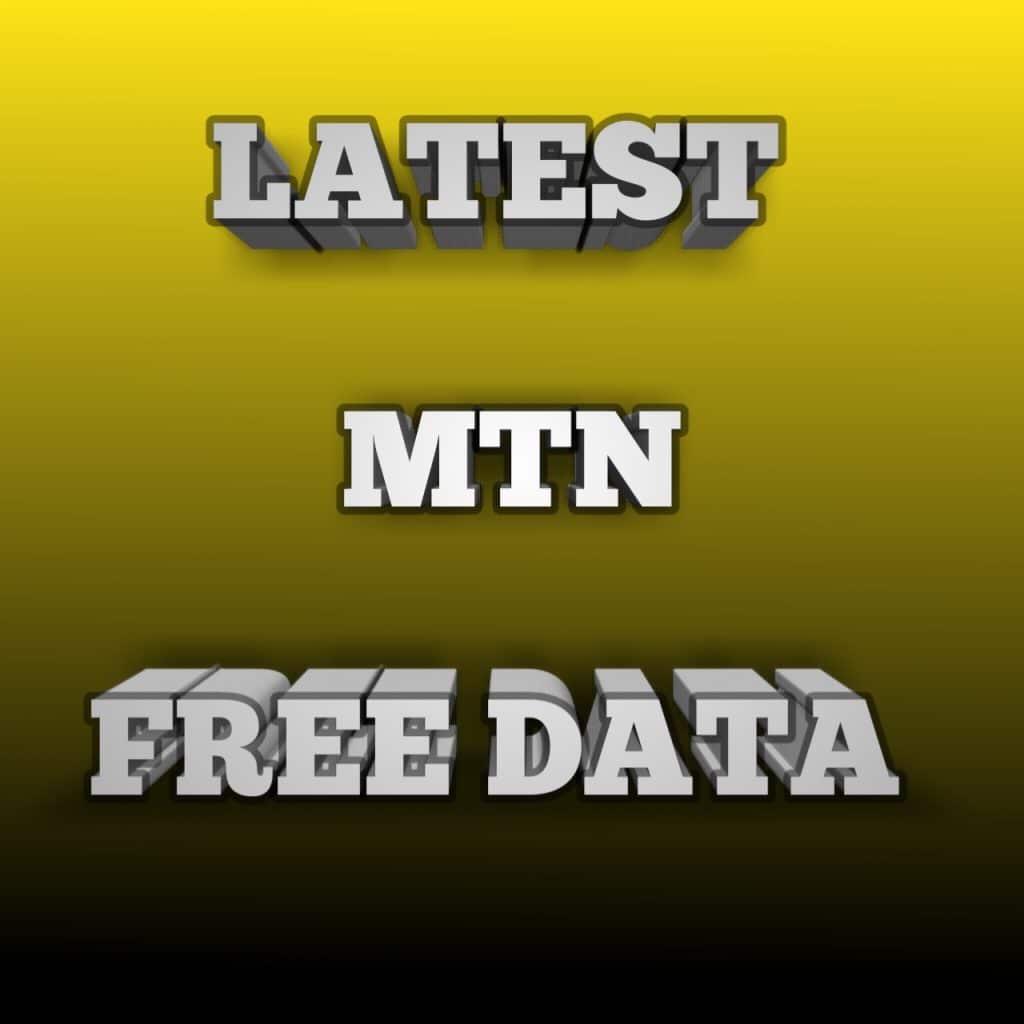 What's Free Data
Free data is simply that megabytes ( MB ) earned or received from a network provider without payment. It is reward data that is completely free or as a bonus for a completed task.
data that is entirely free, is a reward from your network provider without any payment or recognized effort. Most of those data can be used for all internet activity but often with a very limited validity period.
Imagine you are given 50GB of free data to expire in 24 hours, the only way to finish that is to become a very heavy data user for 1 day.
Other free data offers are restricted ones until a user completes some task, like buying a product, activating an offer, or subscribing to a particular service designed for that such as smartphone offers, or double data offers.
Rarely, free data also come in the form of cheat codes which when dialed and a huge amount of data could be earned from a particular network.
Let me walk you through the available free data on MTN and how to get them. This list is often updated with new offers.
MTN NG Free Data
On the MTN network, free data comes in different kinds depending on the usage. Those that can be used for every internet activity and those that are constrained to be used only on a specified app or website such as the opera news app.
How to Get Free Data on MTN
Free MTN data can be gotten by various means;
Free Data Reward
Promo and codes
Free Data Gift
Trick and tweak
Free MTN Data Reward
for Nigeria
1. MTN 1GB free data
most often to earn 1024MB data on MTN, your SIM needs to be inactive for some time. Once you insert the SIM on your phone and dial *131*4# and send, You will see free 1GB bonus data valid between 24hrs to 7 days.
This comes as a data reward due to inactivity on your MTN line for a while. If you have any MTN SIM that you have not been using for a while kindly insert it and check for your free 1GB data bonus.
2. 50GB FREE Data on MTN
This is a data bonus from MTN as reward to its customers that instant My MTN NG app for the first time only.
To get this 50GB data bonus, download, install and launch MTN app on your phone, login to the app using an MTN phone number that hasn't been used for the app before, tap on the displayed "Claim 50GB data bonus".
You will get an SMS containing the details of the reward. The 50GB data bonus is valid for 24 hours.
Note: sometime the reward to claim will be 1GB instead of 50GB
3. MTN xGB free data where x is a number (referral)
This is one of the ways of how to get free data on MTN of any amount. the method is called refer and earn free data. you can get up to 50GB, 100GB, or 200GB of data. to get this free data, just refer a friend to upgrade their SIM to 4G by dialing *312*2*FRIEND'S NUMBER# and you will be rewarded with 1GB free once the person upgrades. if you refer 10 people, you get 10GB of data, 20 people = 20GB, 50 people = 50GB, 100 people referred = 100GB, and so on.
the referred person can upgrade to 4G or 5G by visiting the nearest MTN office and they will also receive 10GB of free MTN data
4. MTN Opera Mini 50MB Daily
The MTN opera 50MB daily works on only the opera mini browser and app to access the internet. It's small but at least useful for doing some search queries. in order to get the opera MTN free data, turn on your data connection and access the opera app or opera news app to activate the daily access per SIM.
Read Also: MTN Opera Joint Data Plan 300MB for N100
5. MTN 500MB Free e-learning Data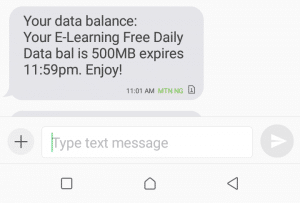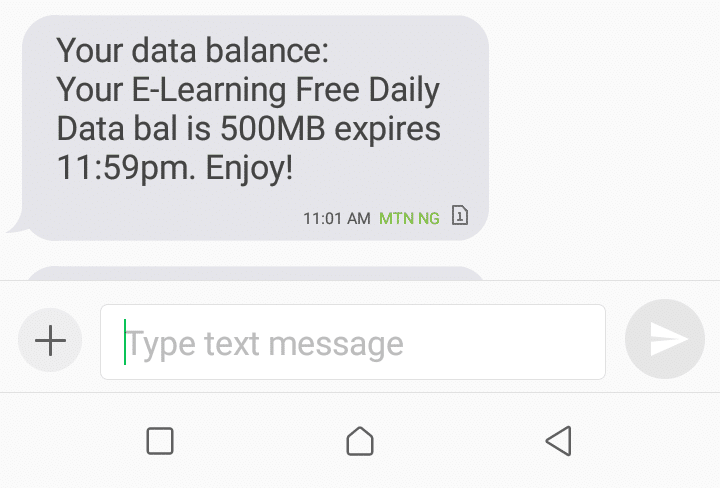 This data offer is available to all MTN customers to activate and use for educational purposes. Although they are methods to bypass the e-learning 500MB free data. But it is designed to access configured government e-learning websites. To activate the MTN e-learning data, visit one of the e-learning sites to activate it daily.
www.mobileclassroom.com.ng
schoolgate.ng
www.roducatelite.com
mtnnig.pass.ng
app.brainfriendonline.com
subeb.edostate.gov.ng/
mylearningacademy
6. Festive Period Free MTN Data.
Occasionally MTN does offer free data on festive periods such as Eids and Christmas days. This free data reward can be used to access all internet activity and often 24 hours validity.
MTN 20th Anniversary Bonus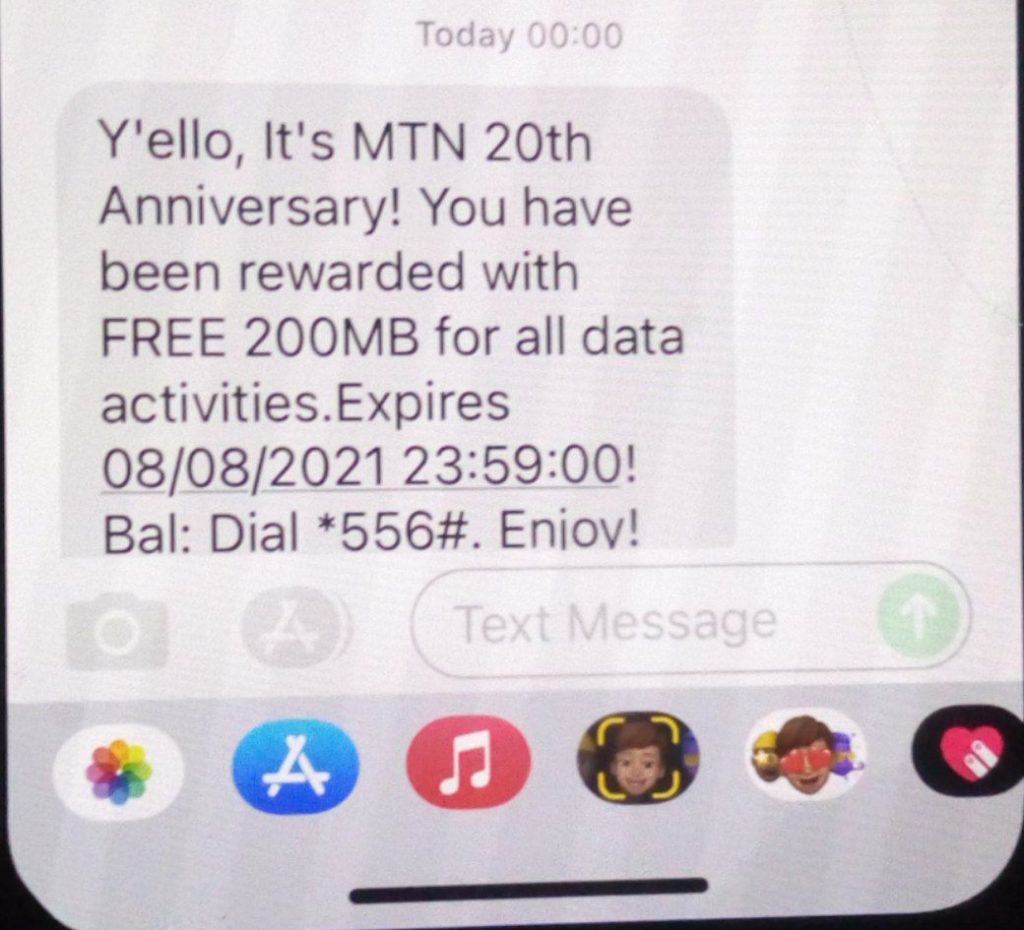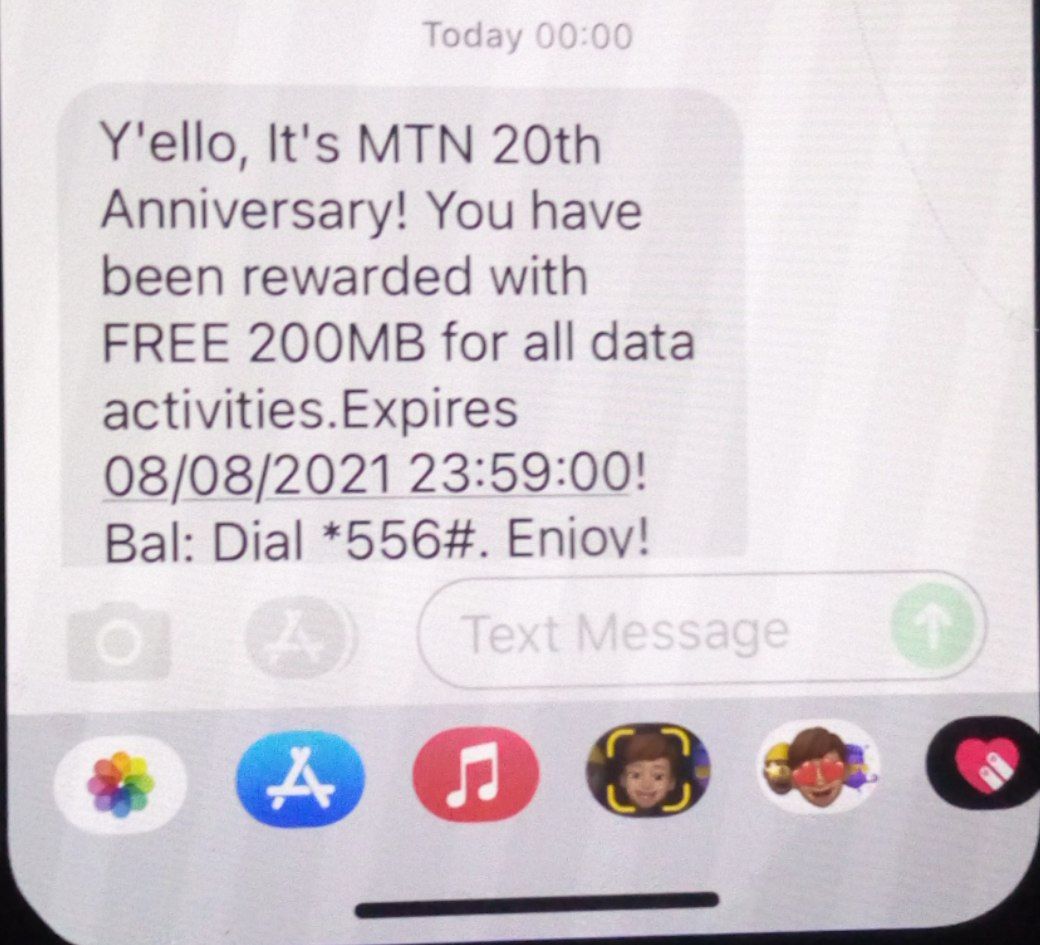 MTN giving away a 200MB data bonus and a 5-minute free call to customers on 08/08/21 to mark its 20 years of service celebration in Nigeria. Dial *131*4# to confirm your data bonus gift. Valid for 24 hours.
7. MTN free 20MB Daily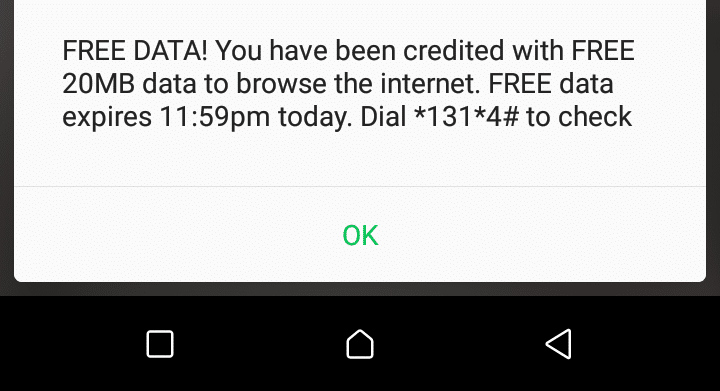 If you have not noticed, MTN offers 20MB of free data daily. This data is helpful to receive or send some messages on chats messenger apps and to take a quick search on the internet.
8. MTN 50MB Daily NCDC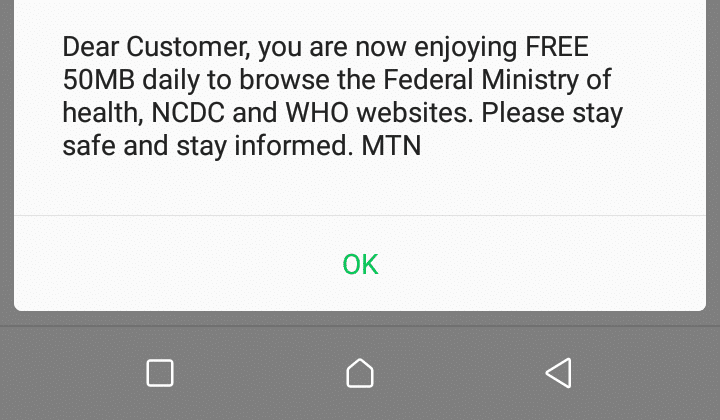 This MTN-free 50MB daily is for access to the Nigerian center of disease and control websites and other government health organizations. All you have to do to get it is to visit ncdc.gov.ng or other related NCDC subdomain sites.
However, the MTN 50MB free data for NCDC can be tweaked to power all apps using some tunneling VPN. LEARN
9. Ayoba Free 100MB Data on MTN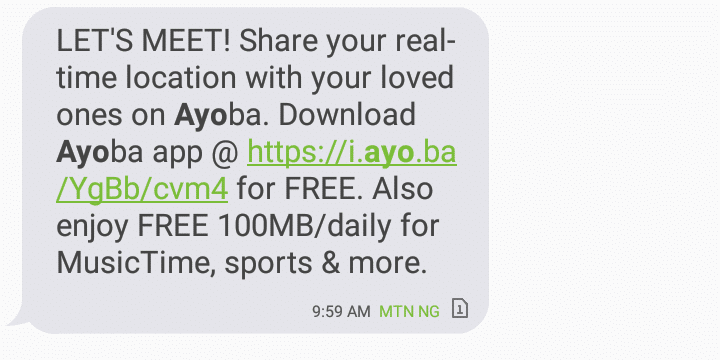 MTN rewards customers with 700MB weekly to access Ayoba. Ayoba is an all-in-one app that offers free instant messaging, voice and video calling, games, music, news, entertainment news, and other content in Africa.
On MTN NG, there's 100MB daily to access Ayoba app content. This means that you need the App to get the free 100MB daily for every MTN SIM. This data cannot yet be tricked to power all apps for internet access. Download Ayoba App here
If you love using the Ayoba app, you can activate its bundles by dialing *131# and choose social bundles.
MTN Free Data Promo
Free data promo on MTN has to do with the merit benefits ( free data ) that can be earned from a particular bundle offer. It is the data received as a result of subscribing to a special package, buying a product, or upgrading a service. This promotion includes but is not limited to;
Free YouTube MTN 4GB
The 4GB MTN free data comes with a prize, that's customers need to activate selected weekly or monthly bundles to earn the youtube free MTN 4GB data. Dial *131*1# and choose FREE YouTube.
MTN Free 10GB data for 4G/5G
The MTN 10GB free data comes as a reward for upgrading your MTN SIM to 4G/ LTE on a supported smartphone. it also comes with a double data offer for a month. This promo was formally a 4GB data bonus. Learn how to upgrade to 4G here
MTN Latest free data promo code
MTN Promo codes refer to the redemption, subscription, or activation digits dialed to receive rewards and benefits; in this case, free data bonus.
The MTN promo codes can be generic and non-generic. The non-generic most often gives awuf free data behind farewell ( trick activity) to users. One of which is *449*2# or *449*1# for 500MB of free data.
However, the non-generic MTN promo codes tend to work occasionally and it is sometimes SIM selective
List of MTN free data Promo code
*449*2# or *449*1# for 500MB
*123*3*1*5*2# for 3GB
*131*100# for 1GB
SMS "SEND ROUTER" to 3988 for 150GB
MTN Free Data Gift
Data gifting on MTN is a service that allows you to transfer, buy or request from your friends and loved ones. Considerably, if you receive data from your friend or loved one through the gift service, it can be considered free data on your end.
Dial *312*8# to access data gifting service on MTN or dial *312*7*3# to request data from your loved one.
MTN Free Data Tweak
This involves getting free data for internet browsing using some tricks such as tunneling Apps. It also involves the tweaking of free data that are constrained for specified apps or websites such as the opera app or e-learning site as protocols into free browsing to power all apps. This MTN-free data trick and tweak is available on this list
MTN Unlimited Free Data – 100GB+
To get unlimited free data on MTN, download HTTP injector, Napsternetv, Stark VPN, or Ha Tunnel plus App from Google Play and download their respective premium config files from Techafresh Group. import the downloaded file to any of these Apps and start browsing and downloading unlimitedly up to 100GB and above.
How to Get free data on MTN South Africa
This section talks about how to get free data on MTN SA. below you will find the ways to get it
1 GB MTN free data: To get this, download my MTN App from Google Play or App Store and register using your phone number then click on accept 1GB free data from the appears on the app. This offer can only be gotten once.
120GB free MTN data: To get this, Dial *131*7*5*1*1# from your phone, and you will be rewarded with 120GB of data. Note this offer is not always available.
3GB MTN free Data for Opera: To get this, download Opera Browser and launch it. you will be rewarded with 100MB of free data daily to a total of 3GB monthly.
Conclusion
For awareness and the latest information about MTN free data, this article has it covered and it will be updated regularly with the latest free data available. If you have free data, you can check the balance by dialing *131*4#.
Also, See: