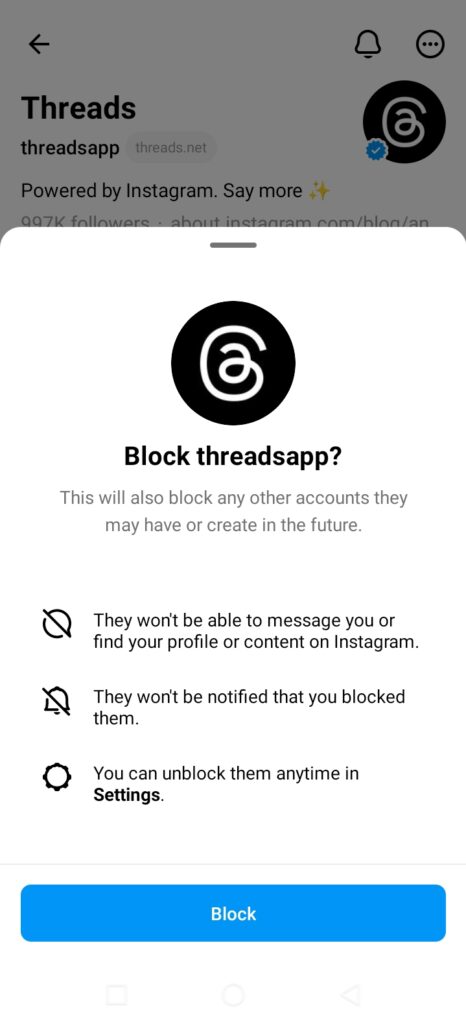 Sometimes people are found of harassment, Threat posing, spamming, kind of improper behaviour, or sharing offensive content. If you are facing such inappropriate behaviour from an account on Threads, you can take a step to block them for once. But how? In this article, you will find out exactly how to block someone on Threads and stay safe.
I have explain 2 different methods you can choose from to block someone on Threads.
I have also included the way you can take to unblock an account on Threads if perhaps you blocked someone by mistake or you just want to take back your former decision of blocking them.
How to block someone on Threads
You can block someone on a threads using any of the following ways on your Android or iPhone:
Block Someone on Threads Through Home Feed:
The home feed is the threads app homepage that contains all the threads posts and discussions you can engage with.
This method has to do with visiting the threads account profile of the user.
To block someone on Threads from home feeds, locate a thread posted by the user you want to block and tap on the 3 dots beside the account username and click on Block.
This will block the user's account and any other accounts they may have or create in the future. It will also get them blocked from your Instagram account.
They won't be able to message you or find your profile or content on Threads or Instagram since the platform are both interrelated. They won't also be notified that you have blocked them.
Blocking an account on Threads using this method simply has nothing to do with visiting their profile as the action can be taken directly from their post, comments, and repost.
Let's see another method to block a person on Threads:
Block Someone on Threads Through Search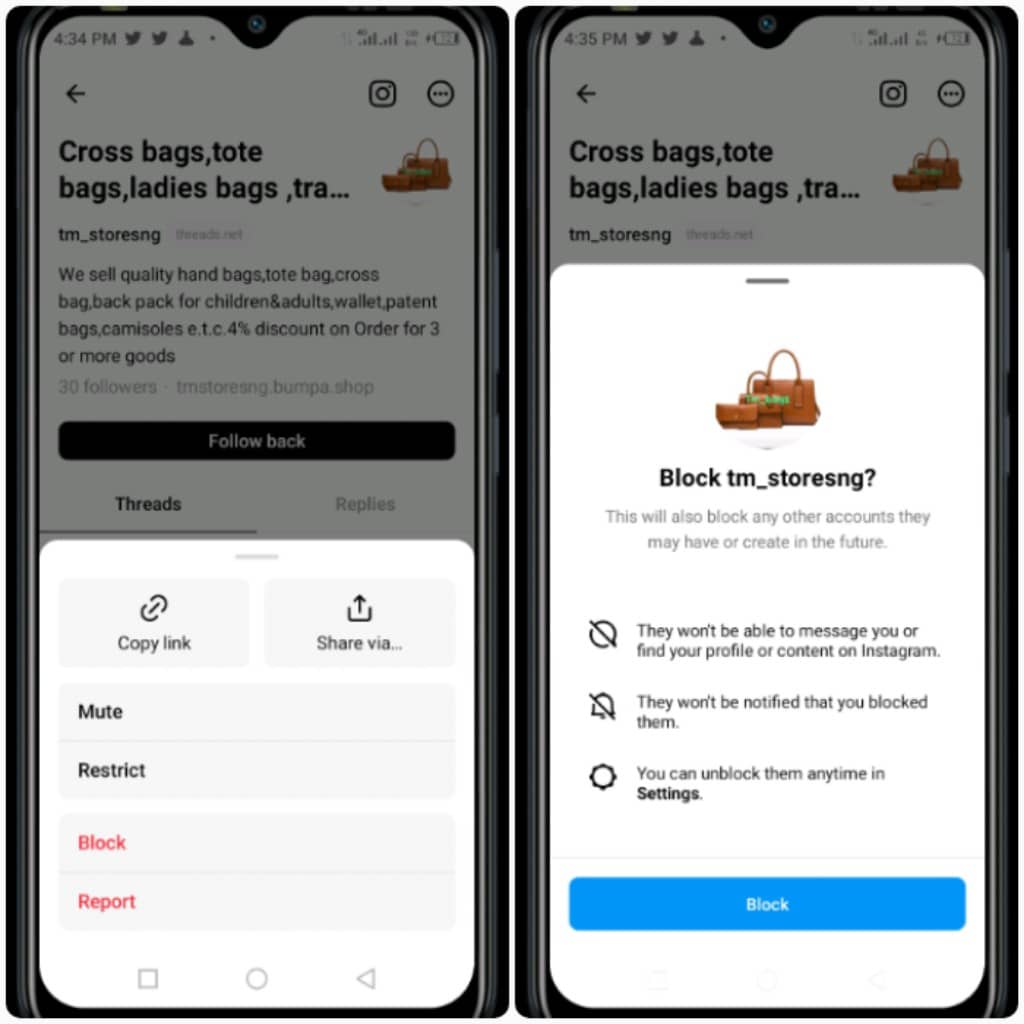 If you know the name or username of an account you want to block or unblock on Threads, on the app interface,
tap on the search button at the bottom left center
on the search bar, enter the name of the account you want to block
From the list that appears, locate and tap their name to their profile.
On their profile page, tap on the 3 dots at the top right corner.
From the fly-up that appears, tap on the block. This will block the threads account of the user from engaging with you on the app.
How to Unblock Someone on Threads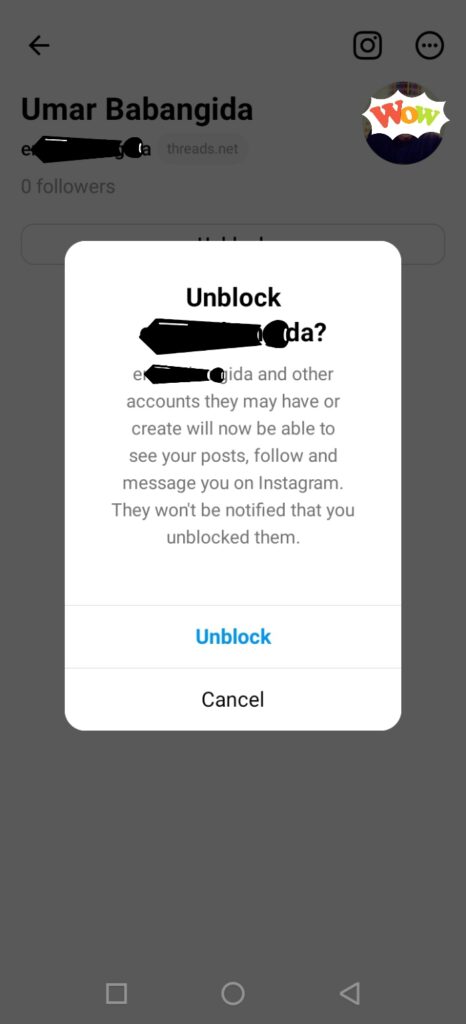 If you have decided to unblock the Thread account you blocked, you can follow the steps below to unblock it.
Go to the user's profile by searching their name on the search bar or from getting to their from home feed.
tap on the dots beside their name at the top right corner,
tap on unblock.
This will unblock the Threads Account. The user will hence be able to interact with your Threads post.
Blocking someone on Threads is the ultimate solution to harassment, threat, or letting the user engage with your account. Sometimes you may wish to a light decision instead.
Here are two lighter decisions you can take against a threads accounts if you don't want to block them.
Mute
Block @Mention
Mute a threads Account
Muting is a privacy feature on Threads that allows you to restrict posts of accounts from appearing on your feeds. It is more of a lighter control than blocking an account entirely. You can use this option when the posts from an account look annoying to you.
Once you mute a Threads account, you wouldn't be able to see their Thread posts until you unmute them back.
To mute a Thread account, simply go to their profile, click on the 3 dots at the top right corner, and tap on mute. Follow the same process if you want to unmute an account.
Block @Mention
Perhaps a Threads user is mentioning you by tagging @yourusername to posts irrelevantly especially in comments sections. You can decide to block @mention on your.
To block someone from mentioning you on threads, follow these steps:
If you are already following the account, unfollow it
Goto your profile
Tap on settings at the top right corner
Tap on Privacy
Tap on @Mention
Select Profile you follow
Once done, no Threads account will be able to @mention you except the accounts you follow.
Conclusion
with this you have learn how to block someone on Threads. If you have further questions, let's know.
Related