WhatsApp Messenger has promoted harmony amongst friends, family, relatives, and even strangers. but atimes things may go wrong and that same person who always likes to chat with you has however got you blocked.
 That is not the only case but whatever the case is, you can also see who has blocked you. At TechAfresh We will show you how to know if someone has blocked you on whatsapp on android and iOS.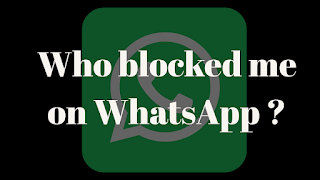 Why Blocking Users on WhatsApp ?
Blocking contact on Whatsapp is very easy, sometimes it the best to do.  If a WhatsApp contact or user is harassing you or you just don't want to see their face in your chat, you can instantly block them within seconds. With this whatsapp blocking feature, you will be protected from harassment on your smartphone.
incase you have notice some of your contacts are no longer visible or active on WhatsApp, probably you are being blocked by them.
In this article we will show you the ways to know who blocked you on WhatsApp.
How do you Know if Someone Blocked you on Whatsapp?
Who blocked me on whatsapp?, this is very easy just as how it's easy to block a contact, it is even easier to know if someone has blocked your number. Whether you're using an iPhone or Android smartphone, Follow these steps below.
To find out if you're blocked on whatsapp by a contact, first open the chat from the contact that you want know whether you have been blocked by that contact or not.
If you are blocked by a contact, You will no longer see the contact's last seen or online in the chat window.
You will not see updates to a contact's profile photo.
If you send messages to a contact who has blocked you, it will always show one check mark (message sent), and never show a second check mark (message delivered).
Lastly Any calls you attempt to place will not go through.
Some people see this as a contact delete on WhatsApp but it's even worst than that. If you are looking for a WhatsApp block checker then with these simple steps you can know blocked you on WhatsApp. If someone blocked you on WhatsApp, you can neither see each others status update or profile picture.
related