The MTN Data4me plans is an offer which has been around for long on the MTN Nigeria network. And still is the archives of bundle that provides best data deals that all customers are eligible to enjoy.
On this post I will make highlights on what MTN Data4Me plans is all about. Bundles available and how to subscribe to them.
The MTN Data4ME is a data plan category under the MTN4ME platform that offers best value of data bundle uniquely to all customers.
What Bundle Values Does MTN Data4ME Offers Has
The MTN Data4ME Plans offers upto 100% data bonus and discounted data bundles such as 1.5gb for N300, 6GB for N1000 or 9GB for N2000. However, if you are the type that dwell more on social media platforms, it will be cheaper to use social media bundles.
Its very similar to the TopDeal4ME of the MTN4ME (MegaDealZone) platform. with offers randomly allocated to customers depending on some analogy best known to MTN.
How to Access Data4ME Offer and Activate Bundle
There are two ways to access and activate any data plan available for you viz;
How to Subscribe Data Bundle From The MTNData4me Plans via USSD Code
DATA4ME Code is *121*3#. Which is a forward string from the parent MTN4me of *121#
To subscribe or activate Data4ME bundle, simply dial the code *121*3# and select appropriately any bundle available for you.
Alternatively, dial this special MTN Data4ME code *567# to activate the offers.
The data plans available differs from user to user on the MTN network, but however, most of the time you may see data bundles like the ones listed below
List of Some Bundles on Data4ME Offer
You can click to activate anyone of your choice
200MB for N50 valid for 14days
400mb for N200 valid for 3days
1GB for N200 valid for 7days
1.5GB for N300 valid for 7days
6GB for N1000 valid for 30days
9GB for N2000 valid for one month
How to Subscribe Data4ME bundle Via MyMtnApp
Launch Your MyMTNApp and click on the MegaDealZone tab. A display of eggs will pop up subscripted with available offers for you as seen below
Click on the Data4ME egg to crack it. A display of data plan will be shown to you stating its volume, cost and validity to either activate or decline.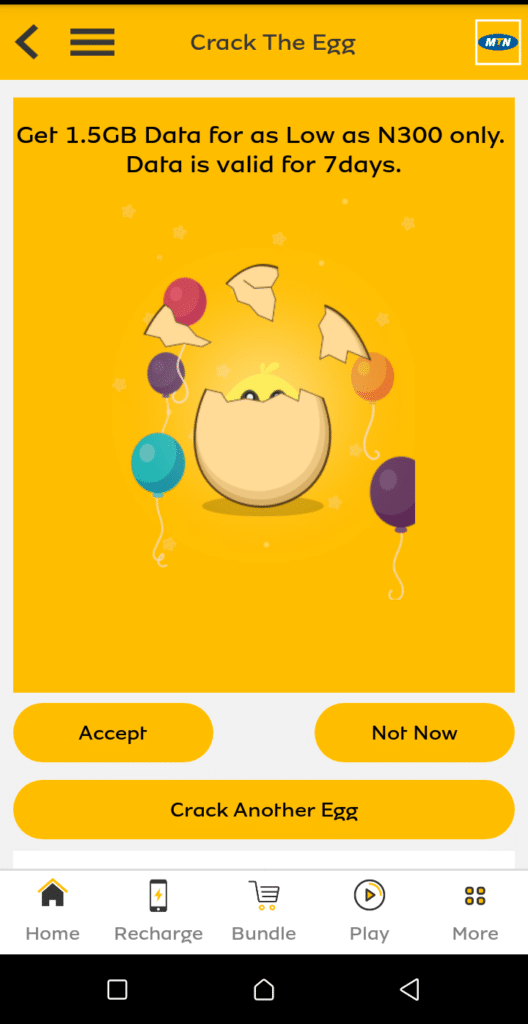 The packages on the Megadealzone is thesame as that of using the *121# code.
Once you are subscribed to any Data4ME plan, you can check your data balance either by ussd code or via SMS. Simply dial *312*4# or text "2" as message to 312.
Data Plan bundles are always better than the free browsing cheat seek by many individuals, at least with Data4ME offer, surely you can see cheap bundles that you can use.
FAQs on MTN Data4ME
What is the MTN data4me code?
The MTN Data4ME can be accessed from any of these codes: *121*1#, *121*2#, *121*3#.
How to migrate to MTN Data4ME
You don't need to migrate to any special package to get Data4me offers, you can access MTN Data4ME platform from any tariff or package by dialing *121#. Alternatively, if *121# is not working, you can get to the MTN for me plan by visit www.mtn.ng/offers or via myMTN NG App