The Virtual National Identification Number (VNIN) is an important token that needs to be provided when undergoing services with Airtel NG that require identity verification. But many individuals keep providing NIN instead of VNIN which Results in a failed verification.
If you don't know how to get a VNIN, worry less because, in this guide, I will be talking about how to generate VNIN on Airtel, an Airtel Agent code, or enterprise ID respectively.
If you follow this as explained, you will not have a problem linking your line NIN or providing it during any verification with Airtel.
What is a virtual NIN?
Virtual NIN is a tokenized version of NIN provided by NIMC. It's a 16-character alphanumeric code used to shield the original NIN when undergoing verification with a trusted enterprise. A verifying agent will not have to interact with the user's NIN in any way to verify the user's information. That's why NIMC assigns a unique agent ID to enterprises
Airtel Agent code for Virtual NIN
The agent code for Airtel virtual NIN is a six-digit unique code (NIMC) assigned to the Airtel network for identity verification. The code is 121097, and it's also referred to as the Airtel Enterprise ID for VNIN.
The Airtel Enterprise ID or agent code for VNIN is needed when you want to generate a VNIN on your Airtel line.
However to generate VNIN on Airtel.
The fastest way to generate VNIN is to use the NIMC USSD code.
To generate VNIN on Airtel, dial *346*3*NIN*121097# and send. Your vNIN will be displayed or sent to you via SMS.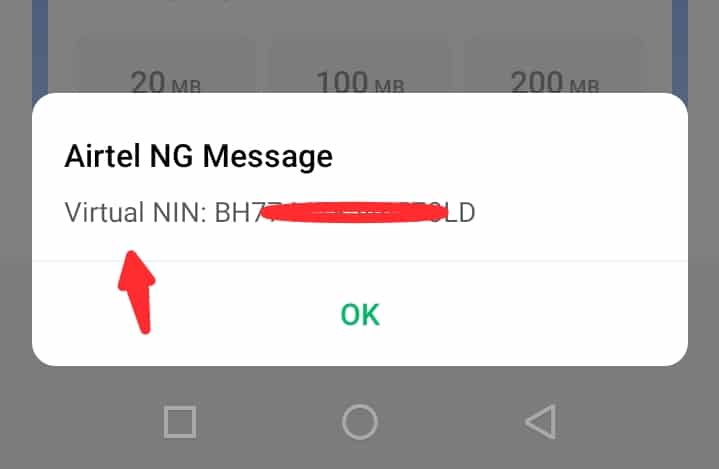 CHECK THIS TOO: How to Generate VNIN on Glo
Note: A service fee of N20 may be deducted from your phone's airtime balance for this service.
Alternatively, you can also generate a VNIN on Airtel from the NIMC Mobile ID App. To do this, follow the steps below:
Download the NIMC mobile app on your Android or iOS device.
Set up the app and log in using your PIN on the lock screen.
Select the "Get VIRTUAL NIN" option.
Read through the "Enhance Data Privacy Agreement".
Click on the button with a "+" sign at the bottom right corner of the screen to kick off the VNIN generation process.
Tap on either the "Scan Enterprise's QR Code" or "Type Enterprise's ID". You can simply tap "Type Enterprise's ID" and input the Airtel enterprise ID or agent code 121097
The app will successfully generate a virtual NIN for you, specifically for the Airtel enterprise alone.
Related posts